About the NWMO
Bruce County brings reading on the road with the Bookmobile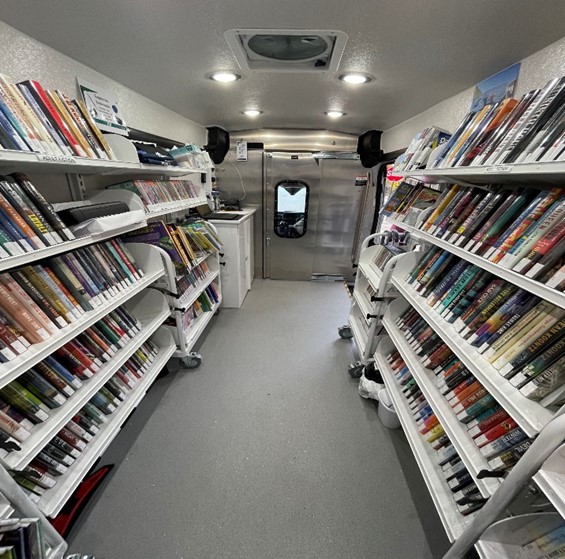 More educational services are hitting South Bruce roads this fall, with help from the Nuclear Waste Management Organization (NWMO), who donated $50,000 to the Bruce Country Public Library (BCPL) to help fund the Bookmobile project in 2022.
The launch of the Bookmobile provides Bruce County community members with a safe and welcoming space equipped with a collection of books, DVDs, educational materials and free Wi-Fi access.
In celebration of the long-awaited arrival of the Bookmobile, the BCPL recently hosted a launch party at the Port Elgin Branch, where Michael Pahor, the NWMO's Site Director for South Bruce, emphasized the importance of connecting residents with literacy services throughout Bruce County.
"Increased access to safe educational services is important to all of us at the NWMO," said Pahor. "We are very proud to be part of this important community initiative."
The BCPL Bookmobile is one of several community initiatives sponsored by the NWMO in recent months. Other sponsored groups and events have included Big Brothers Big Sisters of South Bruce North Huron, Kincardine Pride and the Teeswater Agricultural Society.
The NWMO's local sponsorships and donations program is designed to empower organizations in the siting areas to do what they do best — build better communities. In South Bruce, this program is part of the NWMO's commitment to being a good corporate citizen and ensuring consistent investment for important community projects and initiatives.
More information about the NWMO's contribution to the Bookmobile campaign can be found here. For more information about the Bookmobile and its services, visit the Bruce County Library website.
About the NWMO
Founded in 2002, the Nuclear Waste Management Organization (NWMO) is a not-for-profit organization tasked with the safe, long-term management of Canada's intermediate and high-level radioactive waste, in a manner that protects people and the environment for generations to come.
The NWMO has been guided for more than 20 years by a dedicated team of world-class scientists, engineers and Indigenous Knowledge Holders that are developing innovative and collaborative solutions for nuclear waste management.