About Canada's used nuclear fuel
Together, nuclear power reactors in Ontario, Quebec and New Brunswick have been generating electricity from nuclear power for more than half a century. Used nuclear fuel is a byproduct of this process.

Canada's used nuclear fuel is currently safely stored at existing reactor sites in Ontario, Quebec and New Brunswick, as well as at a laboratory in Manitoba. Today's method is safe, but temporary, because it requires ongoing maintenance and management.

This is why Canada has a plan for the safe, long-term management of used nuclear fuel.

How is it stored today?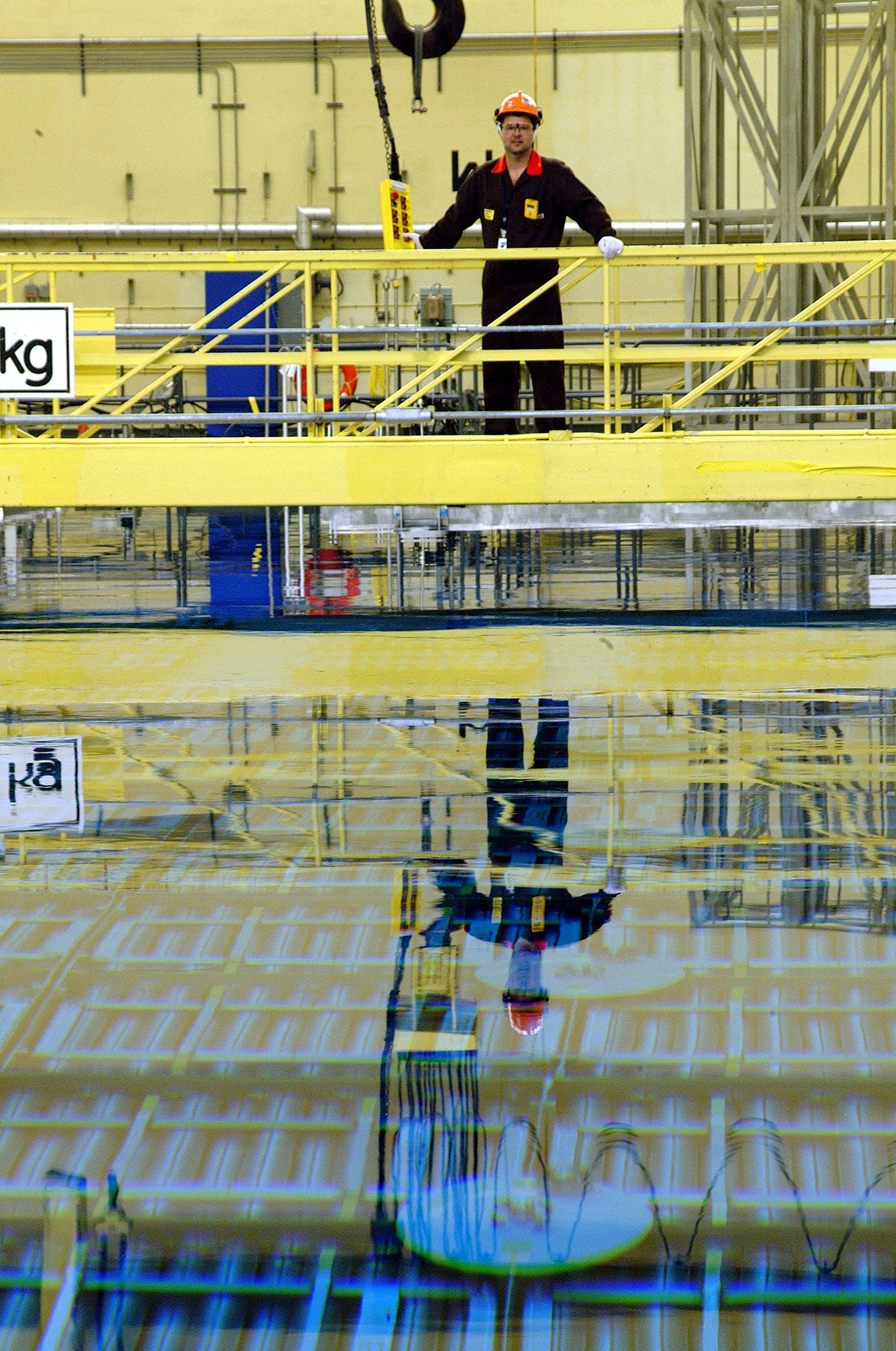 When used nuclear fuel bundles are removed from a reactor, they are placed in a water-filled pool where their heat and radioactivity decrease. After seven to 10 years, the bundles are placed in dry storage containers, silos or vaults. Dry storage is a proven technology that has been in use around the world since the 1980s.

Dry storage containers are made of reinforced high-density concrete about 510 millimetres (20 inches) thick — about the height of a border collie — and are lined inside and outside with 12.7-millimetre-thick (half-inch) steel plate. The thickness of the concrete provides an effective barrier against radiation.

The dry storage containers have a minimum design life of 50 years. They are actively monitored, and studies indicate that with ongoing maintenance and inspections these containers can be safely used for much longer periods of time. After 50 years, the life of the container could be extended, or the used fuel could be repackaged. These decisions will depend on a number of factors, including the timeline for implementing Canada's plan for long-term management of the used fuel.

Although the used fuel's radioactivity decreases with time, chemical toxicity persists. To protect people and the environment, it requires safe, long-term management.
Learn more
How much used nuclear fuel is there?
As of 2022, Canada's existing inventory is about 3.2 million used nuclear fuel bundles. If stacked like cordwood, all this used nuclear fuel could fit into about nine NHL hockey rinks from the ice surface to the top of the boards. At the end of the planned operation of Canada's existing nuclear reactors, the number of used fuel bundles could total about 5.5 million.
We are also monitoring multiple SMR projects closely to help us prepare for decisions that could change the volume and type of waste we are responsible for managing. The quantity of used fuel produced by potential new nuclear projects, including small modular reactors (SMRs), will depend on the size and type of reactor and number of units deployed. Proposed new nuclear project plans are at various stages of development. As those projects progress, the NWMO will update our inventory projections.
As of February 2023, the NWMO is aware of two SMR projects in the licensing process, which will represent a small increase in the projected inventory of used fuel — approximately two per cent over the projected 5.5 million bundles of used CANDU fuel.
The NWMO publishes annual inventory reports which can be found here.
Learn more