Local activities
Communities come together to learn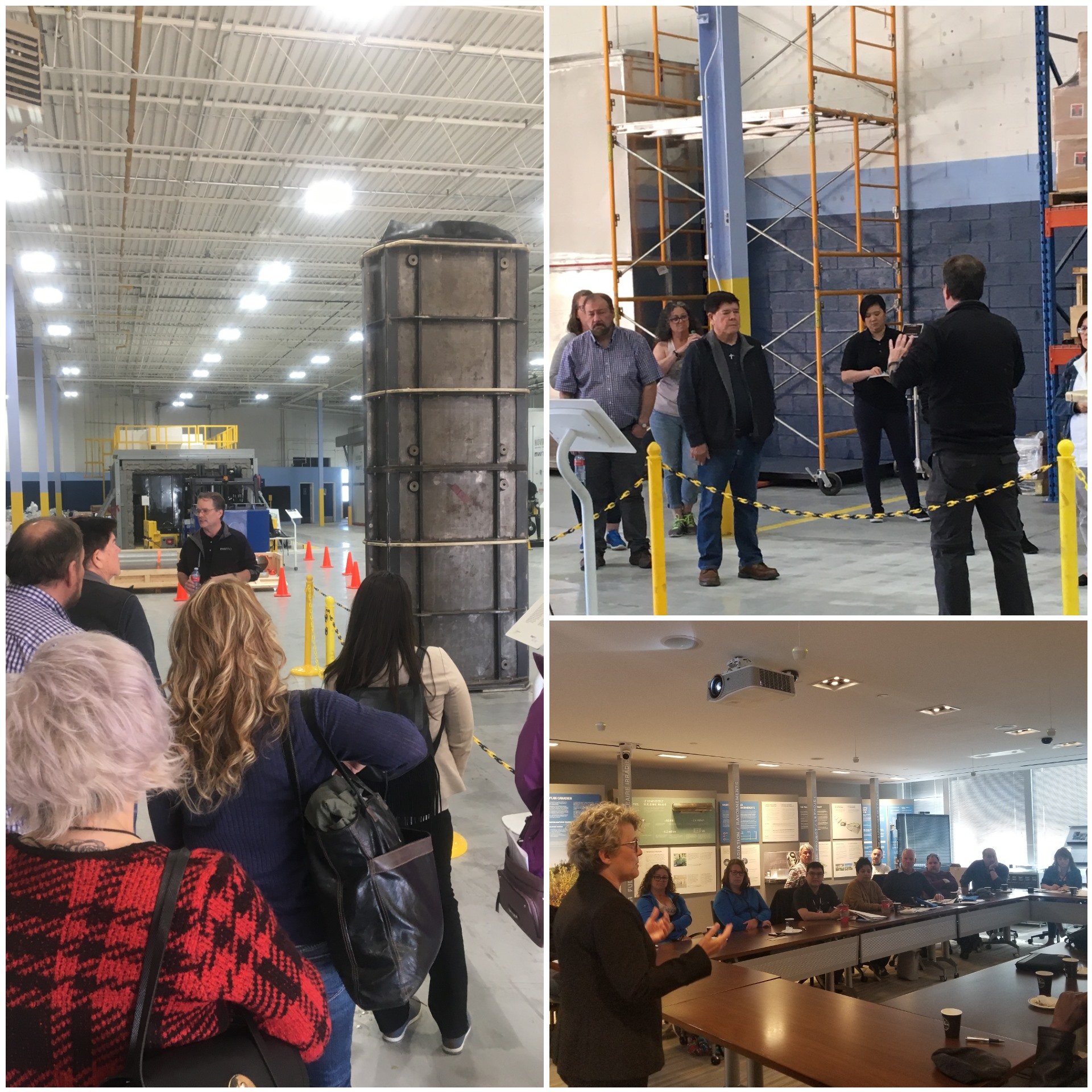 Community leaders and members of Indigenous communities recently travelled thousands of kilometres to visit the Nuclear Waste Management Organization (NWMO) and our proof test facility in Oakville to learn more about Canada's plan for used nuclear fuel and the associated engagement process.
They travelled from Ignace, Ont., and New Brunswick to Oakville to learn more about the ongoing research and development at the NWMO. Participants hailed from the Ignace Community Nuclear Liaison Committee, the Township of Ignace and Wabigoon community, New Brunswick Power, the Union of New Brunswick Indians, Mi'gmawe'l Tplu'taqnn Inc., Mawiw Council Inc., and Wolastoqey Nation in New Brunswick.
Laurie Swami, President and CEO of the NWMO, welcomed the group, and thanked them for joining the NWMO to learn more about Canada's plan and their potential role in it.
"As stewards of Canada's plan, we have responsibility for safely managing all Canada's used nuclear fuel – whether it is existing used fuel at nuclear generating stations here in Ontario or at Point Lepreau," Ms. Swami said.
She also highlighted how important it is to the NWMO to engage with Indigenous communities across Canada. "As an organization committed to fostering Reconciliation, we believe forming relationships and meaningful connections, like the opportunity presented here today for all of us to learn together, is vital as we work to co-create a better shared future for all of us."
The stopover was also a unique opportunity for New Brunswick First Nation communities – that are actively engaged with New Brunswick Power about another project – to connect with individuals from a potential repository host community. The Ignace area is one of five areas currently remaining in the NWMO's site selection process.
Participants from both areas welcomed the chance to learn more about the NWMO's work and each other's communities and projects.
"The NWMO had a comfortable and welcoming atmosphere. This gave each group the opportunity to communicate with each other, and share their knowledge and experiences with the nuclear industry," said Helen Ward Wakelin, Mi'gmawe'l Tplu'taqnn Inc. Environment, Safety and First Nation Point Lepreau Nuclear Generating Station Communication Liaison. "I now have a better understanding of the description, research, top-notch expertise, and community engagement process when discussing Canada's plan for used nuclear fuel. This is not the end of a conversation, it's an ongoing one."
"I had an absolutely wonderful time during my visit down south with the NWMO team. These people know their stuff," said Ignace Councillor Greg Waldock. "Everything from the complexities of isotopes to the subtleties of being great hosts. It was a highly entertaining and extremely enlightening experience that I would recommend to anyone who has the opportunity to participate."
The tour is just one of many ways the NWMO works to inform and connect with Canadians about the country's plan for the safe, long-term management of used nuclear fuel.
About the NWMO

The Nuclear Waste Management Organization (NWMO) is a not-for-profit organization tasked with the safe, long-term management of Canada's used nuclear fuel inside a deep geological repository, in a manner that protects people and the environment for generations to come.

Founded in 2002, the NWMO has been guided for more than 20 years by a dedicated team of world-class scientists, engineers and Indigenous Knowledge Holders that are developing innovative and collaborative solutions for nuclear waste management. Canada's plan will only proceed in an area with informed and willing hosts, where the municipality, First Nation and Métis communities, and others in the area are working together to implement it. The NWMO plans to select a site in 2024, and two areas remain in our site selection process: the Wabigoon Lake Ojibway Nation-Ignace area in northwestern Ontario and the Saugeen Ojibway Nation-South Bruce area in southern Ontario.