NWMO news
More diversity in nuclear is a win for the industry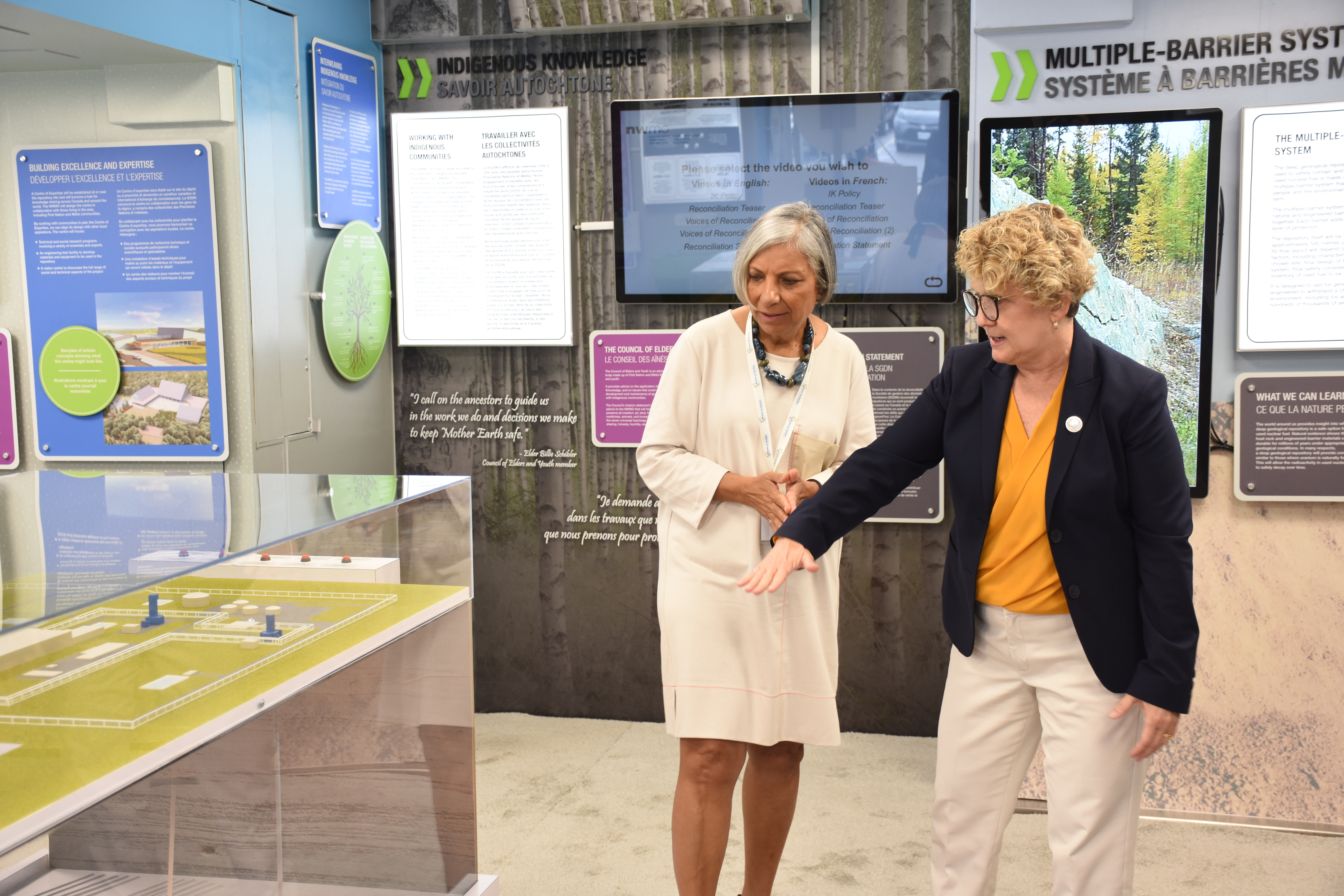 NWMO President and CEO Laurie Swami and Canadian Nuclear Safety Commission President and CEO Rumina Velshi walking through our Mobile Learn More Centre at the WiN Canada Conference in Port Elgin, Ont.
It is no secret that Laurie Swami, President and CEO of the Nuclear Waste Management Organization (NWMO), is a proud STEMinist. As one of only three women leading a nuclear organization in Canada, she is a proud advocate for more diversity among young people entering STEM (science, technology, engineering, and mathematics) careers and for encouraging the next generation of leaders.
So Ms. Swami shared her perspective about why more women in nuclear benefits the industry and the importance of female role models at the 16th annual Women in Nuclear (WiN) Canada National Conference held in Port Elgin, Ont., on Sept. 22-24, 2019.
"We are making progress as an industry towards greater gender equality, but there is still more work to do. It is important for women in leadership positions in the nuclear industry to serve as role models and encourage other women in STEM careers to reach for the top and become strong, compassionate leaders," said Ms. Swami.
Approximately 250 WiN members (including NWMO specialists) participated in the conference.
Conference highlights:
Ms. Swami and other women leaders in the nuclear industry from the Canadian Nuclear Safety Commission, Bruce Power and Ontario Power Generation took part in a thought-provoking panel discussion on why gender parity wins. The leaders explored obstacles and solutions to achieving gender parity and increasing the participation of women in leadership throughout the nuclear industry.

Daniela Heimlich, Senior Estimating Specialist with the Project Controls team at the NWMO, received the prestigious Harriet Brooks Award from WiN Canada. A professional licensed engineer, Ms. Heimlich was recognized for her contribution to WiN Canada, raising awareness about nuclear technologies, and inspiring interest in STEM professions and trades among women and young people.

WiN members also had the opportunity to visit the NWMO's new Mobile Learn More Centre. The mobile exhibit demonstrates the breadth of our project – from the technical and safety programs to social engagement and Reconciliation – and illustrates our progress.
The NWMO was one of the sponsors for this year's WiN conference. It is one of the many initiatives we support to help young people develop technical skills that might someday be applicable to Canada's plan for used nuclear fuel.
About the NWMO

The Nuclear Waste Management Organization (NWMO) is a not-for-profit organization tasked with the safe, long-term management of Canada's used nuclear fuel inside a deep geological repository, in a manner that protects people and the environment for generations to come.

Founded in 2002, the NWMO has been guided for more than 20 years by a dedicated team of world-class scientists, engineers and Indigenous Knowledge Holders that are developing innovative and collaborative solutions for nuclear waste management. Canada's plan will only proceed in an area with informed and willing hosts, where the municipality, First Nation and Métis communities, and others in the area are working together to implement it. The NWMO plans to select a site in 2024, and two areas remain in our site selection process: the Wabigoon Lake Ojibway Nation-Ignace area in northwestern Ontario and the Saugeen Ojibway Nation-South Bruce area in southern Ontario.