Reconciliation
Reconciliation around the world: The NWMO connects with efforts in Australia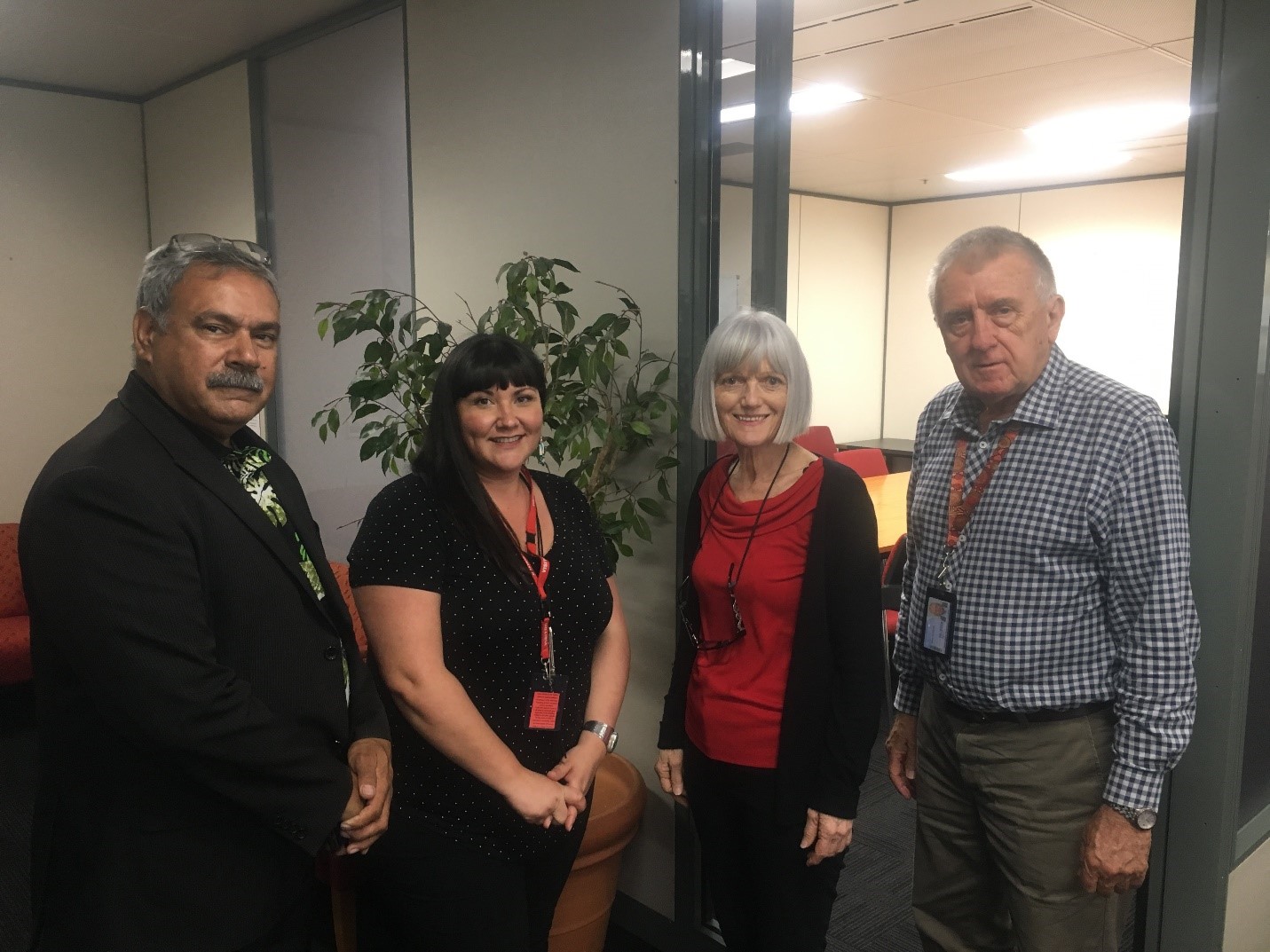 Jessica Perritt (second from the left), Senior Advisor for Indigenous Knowledge at the NWMO, meets with members of Reconciliation Queensland: Uncle Bill Buchanan (far left), member of the management committee; Linda Diane Harnett, secretary (second from the right); and Peter Jackson (far right), co-chair.
The Nuclear Waste Management Organization (NWMO) is committed to interweaving Indigenous Knowledge throughout our work and to implementing the principles of Reconciliation across the organization.
Ensuring actions speak louder than words can prove challenging, and our organization is not alone. Resource and energy companies around the world struggle with Reconciliation in their own ways, and members of the NWMO's team recently joined a conference in Australia that, in part, tackled this complex, timely and important topic.
Jessica Perritt, Senior Advisor for Indigenous Knowledge, and Melissa Mayhew, Senior Environmental Scientist, travelled down under to present at the annual International Association for Impact Assessment conference in Brisbane. Their involvement ranged from discussions of incorporating Indigenous Knowledge to how impact assessments are evolving for the next generation. But Ms. Perritt said she was pleasantly surprised to see how deeply Indigenous rights and knowledge were woven into the program.
Land acknowledgments preceded every speaker, and the event included a traditional welcome to land done by an Indigenous Knowledge keeper.
She noted the opening ceremonies also included a smoke ceremony to cleanse the space, which she said is "very similar practice to a smudge ceremony that is done by First Nations people in Canada."
While in Australia, Ms. Perritt also had the opportunity to meet with Reconciliation Queensland, an organization working to further Reconciliation between Indigenous peoples in that state and Australia.
"As the NWMO embarks on this journey of Reconciliation, it is important that we are learning from each other in Canada, and I felt extremely privileged and honoured to learn from our brothers and sisters in Queensland, Australia," she said. "It was amazing to see and learn how similar some of the ceremonies, protocols and the connection to land is between Indigenous peoples in Canada and in Australia.
"Something that Reconciliation Queensland kept referring back to was the importance of understanding the truth and history of Indigenous peoples before stepping into the Reconciliation arena, and that education was the key to success," she added. "This experience really reassured me that the NWMO is on the right path."
About the NWMO

The Nuclear Waste Management Organization (NWMO) is a not-for-profit organization tasked with the safe, long-term management of Canada's used nuclear fuel inside a deep geological repository, in a manner that protects people and the environment for generations to come.

Founded in 2002, the NWMO has been guided for more than 20 years by a dedicated team of world-class scientists, engineers and Indigenous Knowledge Holders that are developing innovative and collaborative solutions for nuclear waste management. Canada's plan will only proceed in an area with informed and willing hosts, where the municipality, First Nation and Métis communities, and others in the area are working together to implement it. The NWMO plans to select a site in 2024, and two areas remain in our site selection process: the Wabigoon Lake Ojibway Nation-Ignace area in northwestern Ontario and the Saugeen Ojibway Nation-South Bruce area in southern Ontario.