Environment and safety
The NWMO receives communications award for our collaborative approach to transportation planning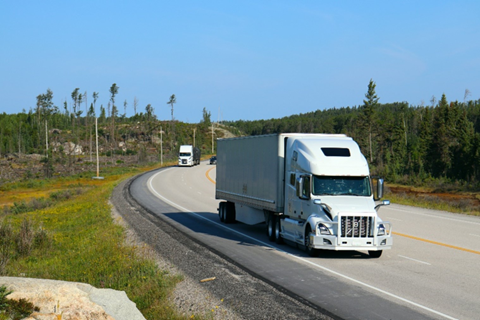 The NWMO has been recognized with an international award for our collaborative approach to transportation planning.
The Nuclear Waste Management Organization (NWMO) has been recognized for our collaborative approach to transportation planning, which it is implementing as part of Canada's plan for the safe, long-term management of used nuclear fuel.

The organization received an International Association of Business Communicators' (IABC) 2022 Gold Quill Award, which is highly esteemed among communications professionals around the world. The award was aligned to the NWMO's ongoing communications and engagement efforts related to the planning being undertaken as part of the transportation program.

"We are humbled to receive this prestigious award. While the transportation of used nuclear fuel won't happen for at least 20 years, we're committed to taking a collaborative approach to developing a safe and socially acceptable transportation plan," said Caitlin Burley, Transportation Engagement Manager at the NWMO.

Transportation is an essential part of Canada's plan for the safe, long-term management of the country's used nuclear fuel. The used fuel will need to be moved from interim storage facilities near reactor sites to a deep geological repository. The transportation program is expected to begin in the 2040s, once the repository is operational. The NWMO expects to select a site for the repository in 2024.

"We started our planning decades in advance and have already engaged with thousands of Canadians and Indigenous peoples. There is still significant work ahead of us as we lay this foundation for collaborative planning and work towards understanding concepts of social safety and incorporating Indigenous Knowledge into our work," said Ms. Burley.

The award will be presented in June at the IABC World Conference in New York City.

For more than 40 years, IABC's Gold Quill Awards have recognized and awarded excellence in strategic communication worldwide. Gold Quill is the only awards program that honours the dedication, innovation and passion of communicators on a global scale.

"I am honoured our team's work is being recognized for our communications and engagement on transportation planning, among many notable submissions from communicators globally. We know transportation planning is a subject of broad public interest, and although there is still much work to do, receiving this award helps affirm that we are going in the right direction as an organization," said Lisa Frizzell, Vice-President of Communications at the NWMO.

The transportation planning framework sets out objectives, priorities and considerations for transporting used nuclear fuel.

Transportation planning over the next 20 years will continue to be a dynamic and collaborative activity, with opportunities for everyone interested to provide input, ask questions and raise concerns.

About the NWMO

The Nuclear Waste Management Organization (NWMO) is a not-for-profit organization tasked with the safe, long-term management of Canada's used nuclear fuel inside a deep geological repository, in a manner that protects people and the environment for generations to come.

Founded in 2002, the NWMO has been guided for more than 20 years by a dedicated team of world-class scientists, engineers and Indigenous Knowledge Holders that are developing innovative and collaborative solutions for nuclear waste management. Canada's plan will only proceed in an area with informed and willing hosts, where the municipality, First Nation and Métis communities, and others in the area are working together to implement it. The NWMO plans to select a site in 2024, and two areas remain in our site selection process: the Wabigoon Lake Ojibway Nation-Ignace area in northwestern Ontario and the Saugeen Ojibway Nation-South Bruce area in southern Ontario.