Selecting a site
'Best Ever Virtual Summer Camp' Sponsored by NWMO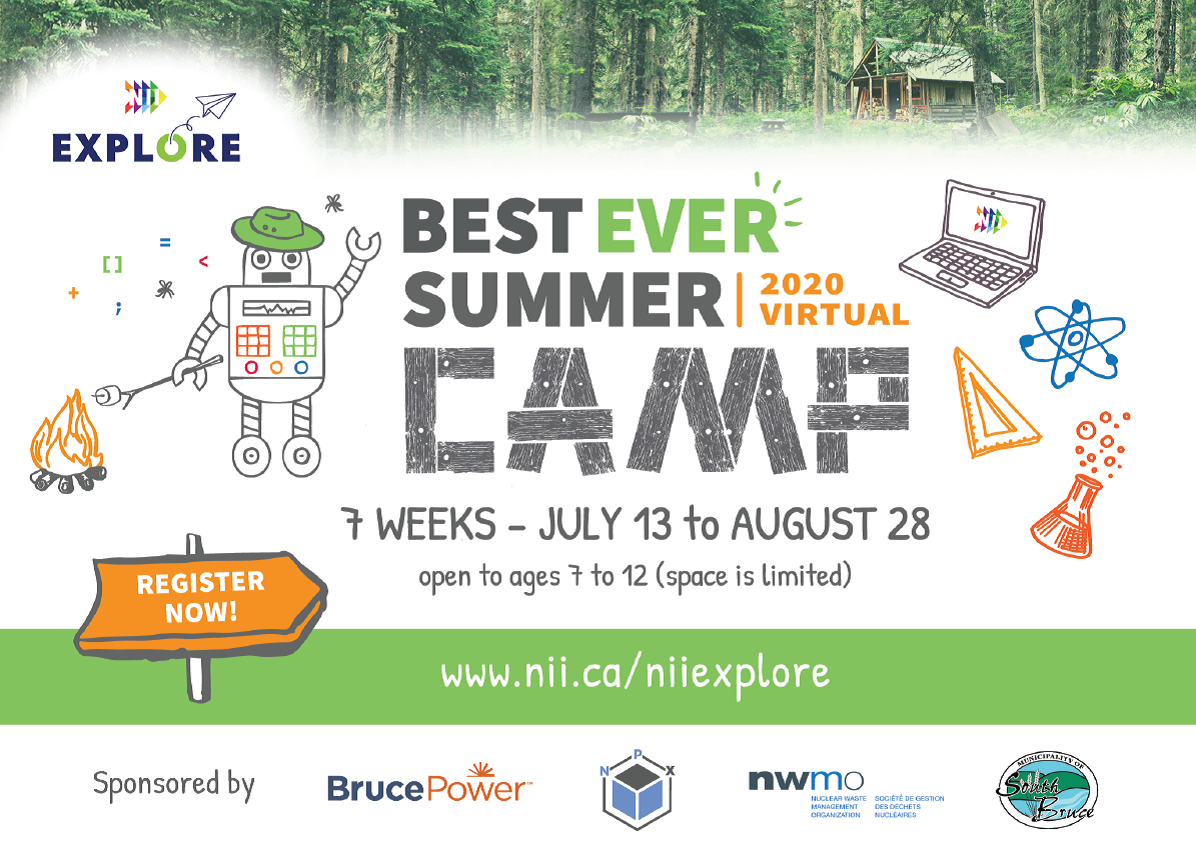 The NWMO is a proud sponsor of the Best Ever Summer Camp
The Nuclear Innovation Institute (NII) is excited to offer the 'Best Ever Virtual Summer Camp' for local youth, aged 7 - 12. The Nuclear Waste Management Organization (NWMO) is pleased to support this alternative activity for our local youth.
"We're delighted to support this exciting initiative," said Laurie Swami, President and CEO of the NWMO. "The NWMO is passionate about promoting STEM and we're happy to partner with the Nuclear Innovation Institute to bring this fantastic opportunity to local youth."
Given the current restrictions brought on by the COVID-19 pandemic, the NII, in partnership with Nuclear Promise X (NPX), has creatively produced fun, engaging and educational content for participants, all through virtual and online activities.
"The Municipality of South Bruce is thrilled to sponsor NII Explore's Summer Camp" said CAO Leanne Martin. "We had the opportunity to meet with camp organizers and their enthusiasm is contagious! This unique summer camp experience is sure to be one that won't be forgotten!"
The camp is offered in week-long sessions, over a seven-week period. Each week has focused on a new, exciting theme, including building, art, Olympics, super spies, the great outdoors, coding, and science!
Each camp day is packed with fun, and includes three activities, focused on STEM, arts and crafts. The morning session is led online, where campers learn a new skill or activity. Later in the afternoon, sessions offer interactive smaller groups to encourage teamwork and friendships. The evening activities are flexible and encourage offline activities, such as hikes, stargazing, and fun for the whole family!
The camp is free to youth from all regions, including Bruce, Grey, and Huron and surrounding counties, as well as youth from the Saugeen Ojibway Nation, and Métis Nation of Ontario. Twenty-four spots have been reserved each week for South Bruce youth. Funding for these was provided through the collaborative efforts of the Municipality of South Bruce and the NWMO. Funding initiatives like these supports capacity building for residents of areas actively participating in Canada's plan as a way to contribute to community well-being.
About the NWMO

The Nuclear Waste Management Organization (NWMO) is a not-for-profit organization tasked with the safe, long-term management of Canada's used nuclear fuel inside a deep geological repository, in a manner that protects people and the environment for generations to come.

Founded in 2002, the NWMO has been guided for more than 20 years by a dedicated team of world-class scientists, engineers and Indigenous Knowledge Holders that are developing innovative and collaborative solutions for nuclear waste management. Canada's plan will only proceed in an area with informed and willing hosts, where the municipality, First Nation and Métis communities, and others in the area are working together to implement it. The NWMO plans to select a site in 2024, and two areas remain in our site selection process: the Wabigoon Lake Ojibway Nation-Ignace area in northwestern Ontario and the Saugeen Ojibway Nation-South Bruce area in southern Ontario.