Canada's plan
Building the future: École publique Franco-Manitou robotics program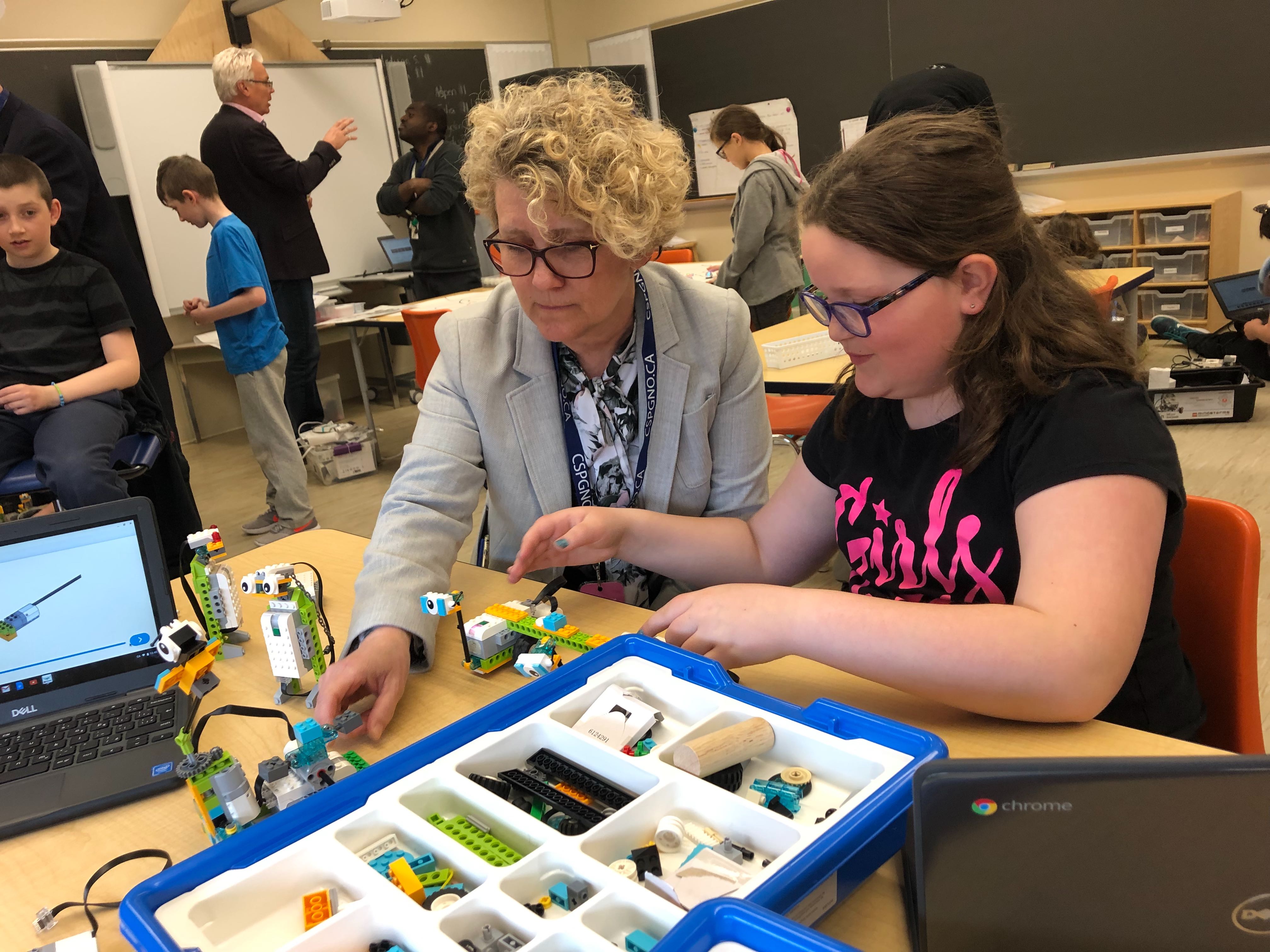 Laurie Swami, NWMO President and CEO, visits a classroom at the École publique Franco-Manitou, where an NWMO investment has helped support the purchase of LEGO robotics kits.
Nuclear Waste Management Organization (NWMO) President and CEO Laurie Swami recently had the opportunity to see students in the robotics program at the École publique Franco-Manitou in action.
The students showed off their creativity in building and programming robots. Their robotics kits – which are part of the classroom thanks in part to the NWMO's support – help improve their creative problem-solving and teamwork skills.
"I was impressed with the students' desire to learn and enjoyed the robotics demonstration. I hope technology can inspire young people to pursue careers in technical fields, including the nuclear industry. Science and technology is important to our project," Ms. Swami noted.
In 2018, the NWMO made a contribution of almost $4,000 to the school to purchase its LEGO robotics kits.
"STEM [science, technology, engineering, and mathematics] curriculum has become one of the most important integration techniques in our classrooms. Robotics is fun! Students can explore an open platform and experience their learning hands-on," noted Éric Robert, Principal at the École publique Franco-Manitou.
"For teachers, it allows us to individualize student learning by nurturing their interests," said Mr. Robert. "Robotics teaches teamwork, develops better problem-solving skills and can create a sense of community within the classroom. STEM lessons are extremely important for students as they prepare to enter the 21st century workforce."
In 2018, 40 initiatives were supported through the Early Investments in Education and Skills program, and of these, 20 had STEM and robotics content.
About the NWMO

The Nuclear Waste Management Organization (NWMO) is a not-for-profit organization tasked with the safe, long-term management of Canada's used nuclear fuel inside a deep geological repository, in a manner that protects people and the environment for generations to come.

Founded in 2002, the NWMO has been guided for more than 20 years by a dedicated team of world-class scientists, engineers and Indigenous Knowledge Holders that are developing innovative and collaborative solutions for nuclear waste management. Canada's plan will only proceed in an area with informed and willing hosts, where the municipality, First Nation and Métis communities, and others in the area are working together to implement it. The NWMO plans to select a site in 2024, and two areas remain in our site selection process: the Wabigoon Lake Ojibway Nation-Ignace area in northwestern Ontario and the Saugeen Ojibway Nation-South Bruce area in southern Ontario.