NWMO news
Community Liaison Manager Carol Barnes volunteers as a firefighter in Manitouwadge and Hornepayne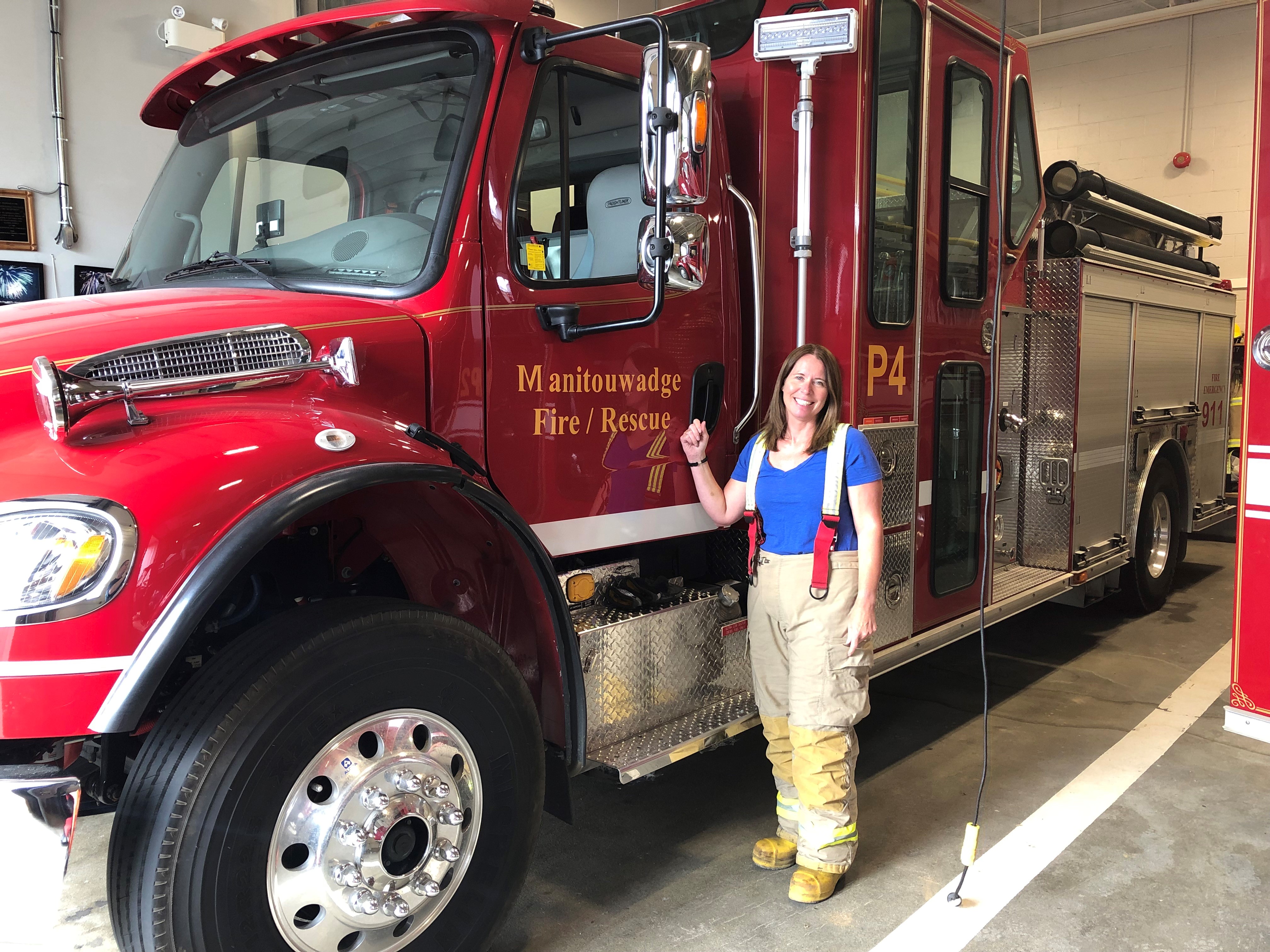 Carol Barnes, NWMO Community Liaison Manager, volunteers with the local fire departments in Manitouwadge from Friday to Monday and in Hornepayne from Tuesday to Thursday.
The community of Hornepayne has one more volunteer firefighter thanks to a connection provided by the Nuclear Waste Management Organization (NWMO).
Carol Barnes had already volunteered as a firefighter for a decade in her home community of Manitouwadge when her work as a Community Liaison Manager with the NWMO took her to Hornepayne. The role meant she was dividing her time, living from Tuesday to Thursday in Hornepayne. It also meant she was in a new area, without knowing many people.
That is why Ms. Barnes decided to approach the local fire chief, and soon after, she started serving as a life-saving link in both communities.
"It may sound corny, but firefighters are a brotherhood/sisterhood," Ms. Barnes said. "I came to Hornepayne and did not know anyone. I approached this group, and they took me in – no questions asked."
She now volunteers in Manitouwadge from Friday to Monday and in Hornepayne from Tuesday to Thursday – double duty that has also forged a connection between the two forces.
"Carol's willingness to serve on both Manitouwadge and Hornepayne Fire Departments speaks to her commitment and sense of community," said Owen Cranney, Fire Chief, Manitouwadge Fire Department.
The NWMO allows Ms. Barnes to leave work if there is an emergency that she needs to attend.
"Now the fire chiefs from Manitouwadge and Hornepayne speak often. They share knowledge. Both communities are tied together because of the NWMO project and because of me," Ms. Barnes said.
It is a community connection forged in part by the NWMO's efforts to reach out to residents in northern Ontario as we work towards selecting a single, preferred location for a deep geological repository. Hornepayne and Manitouwadge are two of five communities remaining in our siting process.
About the NWMO

The Nuclear Waste Management Organization (NWMO) is a not-for-profit organization tasked with the safe, long-term management of Canada's used nuclear fuel inside a deep geological repository, in a manner that protects people and the environment for generations to come.

Founded in 2002, the NWMO has been guided for more than 20 years by a dedicated team of world-class scientists, engineers and Indigenous Knowledge Holders that are developing innovative and collaborative solutions for nuclear waste management. Canada's plan will only proceed in an area with informed and willing hosts, where the municipality, First Nation and Métis communities, and others in the area are working together to implement it. The NWMO plans to select a site in 2024, and two areas remain in our site selection process: the Wabigoon Lake Ojibway Nation-Ignace area in northwestern Ontario and the Saugeen Ojibway Nation-South Bruce area in southern Ontario.