Canada's plan
Fifth annual gathering aims to action meaningful alignment between Indigenous Knowledge and western science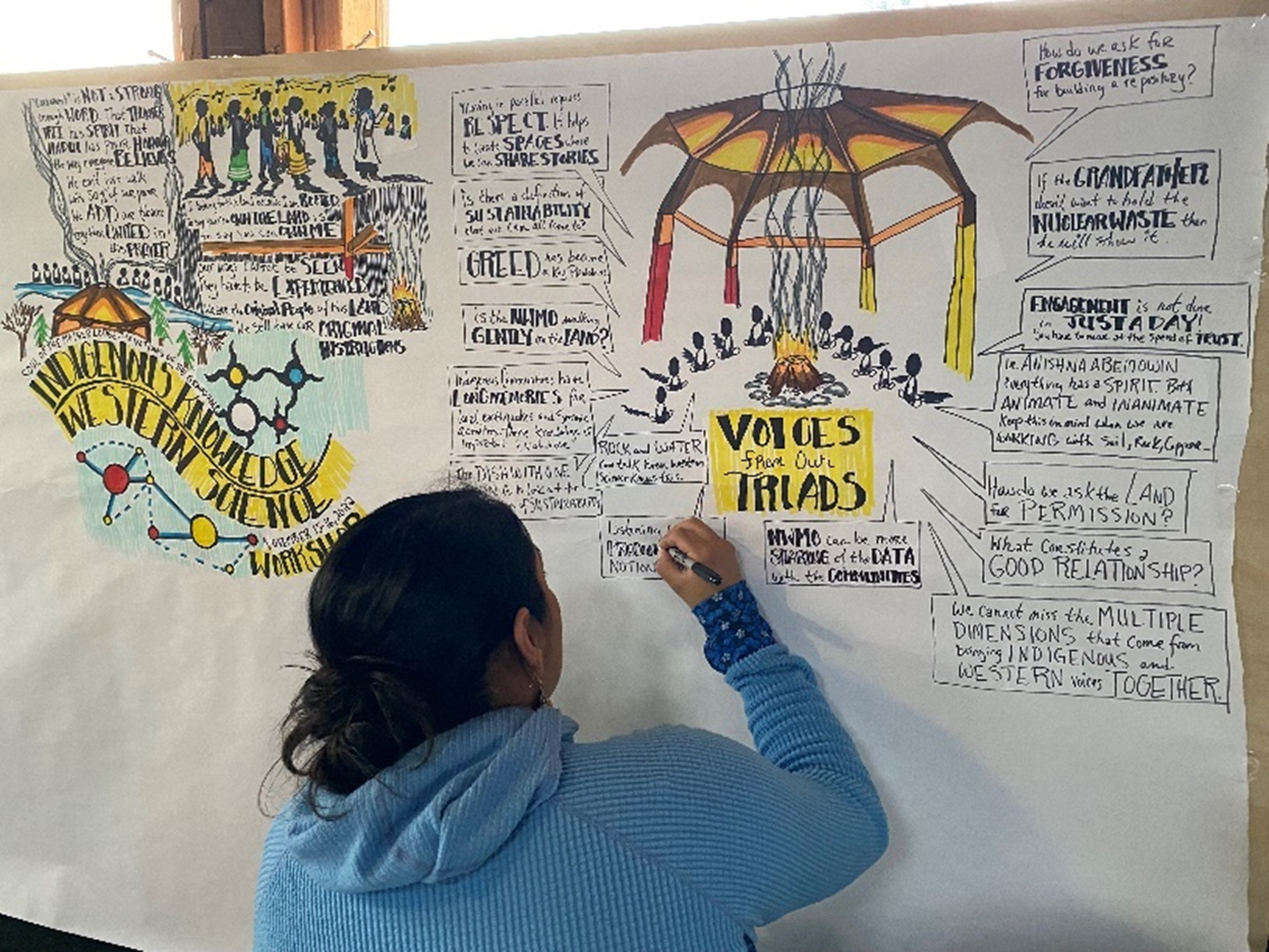 A visual scribe captured the spirit of the latest Indigenous Knowledge and Western Science workshop focused on taking action on our Reconciliation commitments.
The Nuclear Waste Management Organization (NWMO) has taken another important step in our work to apply Indigenous Knowledge to Canada's plan for the safe, long-term management of used nuclear fuel. Participants in the fifth annual Indigenous Knowledge and Western Science (IKWS) gathering used their discussions to consider how to intentionally advance respectful alignment between the two knowledge systems and move from dialogue to action.
Since 2018, the NWMO has held a series of IKWS workshops to increase awareness and understanding of Indigenous Knowledge and how it can work together with western science. While the first workshop revealed a significant gap in western scientists' fundamental understanding of the worldview of Indigenous peoples, subsequent workshops have helped to build a bridge between the two knowledge systems.
"From these IKWS workshops, our researchers have learned how important it is to prioritize stewardship of the land above all else, into everything they do," said Peter Keech, Manager of Engineered Barrier Science at the NWMO. "Practising what we learn includes embedding Reconciliation assessments into our work at the planning stage, not later," he added.
Reconciliation assessments are a dialogue-driven planning method that create awareness and accountability for project teams to consider how Indigenous Knowledge aligns with their approach to work and how it will impact Indigenous communities in its implementation. "We have had Indigenous Knowledge Holders share Indigenous worldview with our academic teams on the university campus itself as a first step, but we are always asking ourselves how we can meaningfully align with Indigenous Knowledge over the long term," Mr. Keech said.
The most recent workshop, held at the Soul of the Mother Lodge on the Six Nations of the Grand River Territory in November 2022, included leadership by an Indigenous facilitator, an Indigenous visual scribe and Indigenous ceremony. Workshop participants included Indigenous Knowledge Holders, academics, researchers and scientists, and other NWMO employees.
Indigenous Knowledge recognizes that people are part of and are one with Mother Earth. It is an evolving knowledge system that covers governance, ecology, biology, ecosystems, harvesting, science and other aspects. The NWMO respects the value Indigenous Knowledge and western science systems contribute to Canada's plan and its implementation.
"The visual scribe, Dakota Brant, captured the spirit of the workshop, blending images of land-based learning with words spoken by the participants," said Rebekah Wilson, Reconciliation Coordinator at the NWMO. "This was a powerful way to bring the commitments coming out of the workshop alive through art. This will be key in keeping the NWMO accountable to our own commitments to Reconciliation and alignment with Indigenous Knowledge."
To act on our commitment to Reconciliation, the NWMO Indigenous Knowledge Policy (2020) commits the organization to working with First Nation and Métis communities and municipalities that wish to share their knowledge and advice in the implementation of the site selection process, as well as in the design, construction, operation and monitoring of the deep geological repository.
"As we approach the next phase of Canada's plan following the selection in 2024 of the site for the repository, we need to build alignment between these knowledge systems that leads to real action and meaningful outcomes," said Bob Watts, Vice-President of Indigenous Relations and Strategic Programs at the NWMO. "The IKWS workshops are an important part of turning that goal into reality."
The NWMO Indigenous Knowledge Policy works in partnership with the NWMO Reconciliation Policy, which was birthed through ceremony in October 2019. According to the most recent annual evaluation report, the Reconciliation Policy has served as a foundation for advancing meaningful community engagement and helped the NWMO staff feel an increased sense of priority, investment and commitment to advance Reconciliation within the work environment.
About the NWMO
The Nuclear Waste Management Organization (NWMO) is a not-for-profit organization tasked with the safe, long-term management of Canada's used nuclear fuel inside a deep geological repository, in a manner that protects people and the environment for generations to come.
Founded in 2002, the NWMO has been guided for 20 years by a dedicated team of world-class scientists, engineers and Indigenous Knowledge Holders that are developing innovative and collaborative solutions for nuclear waste management. Canada's plan will only proceed in an area with informed and willing hosts, where the municipality, First Nation and Métis communities, and others in the area are working together to implement it. The NWMO plans to select a site in 2024, and two areas remain in our site selection process: the Wabigoon Lake Ojibway Nation-Ignace area in northwestern Ontario and the Saugeen Ojibway Nation-South Bruce area in southern Ontario.