International collaboration
France reaches key milestone in repository project, building international momentum for nuclear waste management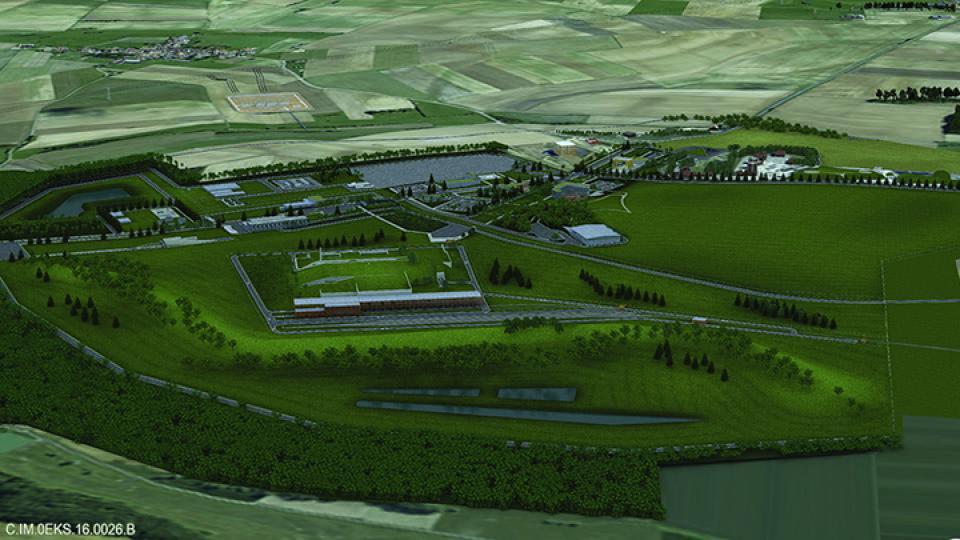 Artist's view of the surface facilities of the Industrial Centre for Geological Disposal, Cigeo.
The Nuclear Waste Management Organization (NWMO) congratulates our counterpart, the French National Agency for Radioactive Waste Management (Andra), on the submission of the licence application for the construction of a deep geological repository to safely store France's used nuclear fuel.
"Andra's construction licence submission is a huge step forward for international nuclear waste management projects, and further evidence that deep geological repositories are very much a reality, not a theoretical approach," said Laurie Swami, President and CEO of the NWMO. "The submission is the culmination of more than 30 years of research, development and demonstration of technologies and techniques – work the NWMO continues to contribute to and learn from as we advance Canada's plan for the safe, long-term management of used nuclear fuel."
There is significant momentum for nuclear repository projects internationally. In addition to Andra's progress, Switzerland's National Cooperative for the Disposal of Radioactive Waste (Nagra) recently selected a site for its deep geological repository, Finland's Posiva Oy applied for an operating licence, and Sweden's SKB received government approval for its project.
With this backdrop, the NWMO looks forward to continuing to collaborate with our international counterparts as Canada moves forward to select a site for our country's used nuclear fuel repository in 2024.
Andra is responsible for the long-term management of France's used nuclear fuel. France has 59 operational nuclear power plants, with 78 per cent of its electricity coming from nuclear power. Andra's siting studies began in 2007, just outside the village of Bure in the Champagne-Ardenne region of eastern France. A preliminary application for a repository construction licence was submitted in 2019. Construction is expected to start in 2025.
The NWMO has co-operation agreements with counterparts in Belgium, Finland, France, Japan, South Korea, Sweden, Switzerland and the United Kingdom, and a memorandum of understanding with our counterpart in Tawain, all of whom are pursuing deep geological repositories like Canada. These agreements allow us to foster international co-operation and learn from each other.
About the NWMO
The Nuclear Waste Management Organization (NWMO) is a not-for-profit organization tasked with the safe, long-term management of Canada's used nuclear fuel inside a deep geological repository, in a manner that protects people and the environment for generations to come.
Founded in 2002, the NWMO has been guided for more than 20 years by a dedicated team of world-class scientists, engineers and Indigenous Knowledge Holders that are developing innovative and collaborative solutions for nuclear waste management. Canada's plan will only proceed in an area with informed and willing hosts, where the municipality, First Nation and Métis communities, and others in the area are working together to implement it. The NWMO plans to select a site in 2024, and two areas remain in our site selection process: the Wabigoon Lake Ojibway Nation-Ignace area in northwestern Ontario and the Saugeen Ojibway Nation-South Bruce area in southern Ontario.