Areas no longer being studied
Manitouwadge Committee Learns About International Research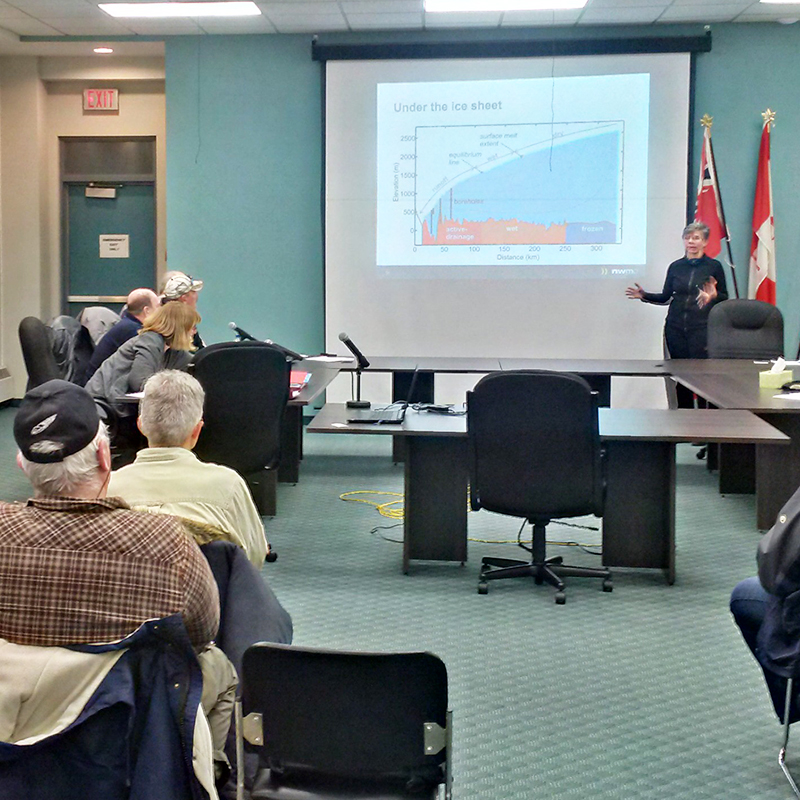 At the March meeting of the Manitouwadge Nuclear Waste Community Liaison Committee (NWCLC), one of our geoscientists, Dr. Monique Hobbs, shared exciting news about an international research program she took part in involving ice sheets in Greenland.
The program was conducted over five years and involved six countries that focused on increasing our understanding of ice sheets.
Dr. Hobbs shared information about how over the last million years, Sweden, Finland and Canada have experienced multiple ice ages, with one occurring on average every 100,000 years. Given that deep geological repositories must be able to safely manage used nuclear fuel over this same time frame, it is important that we understand what will happen when the Earth's surface is covered again by thick ice sheets, during future ice ages.
"The Greenland Analogue Project (GAP) is an excellent example of international co-operation and partnerships on research," said Dr. Hobbs. "The committee and members of the public had lots of great questions. It was a pleasure to meet folks and have the opportunity to share the information with the community."
Learn more about the
Greenland Analogue Project
.
About the NWMO

The Nuclear Waste Management Organization (NWMO) is a not-for-profit organization tasked with the safe, long-term management of Canada's used nuclear fuel inside a deep geological repository, in a manner that protects people and the environment for generations to come.

Founded in 2002, the NWMO has been guided for more than 20 years by a dedicated team of world-class scientists, engineers and Indigenous Knowledge Holders that are developing innovative and collaborative solutions for nuclear waste management. Canada's plan will only proceed in an area with informed and willing hosts, where the municipality, First Nation and Métis communities, and others in the area are working together to implement it. The NWMO plans to select a site in 2024, and two areas remain in our site selection process: the Wabigoon Lake Ojibway Nation-Ignace area in northwestern Ontario and the Saugeen Ojibway Nation-South Bruce area in southern Ontario.