Selecting a site
Minor league baseball returns to Ignace with help from the NWMO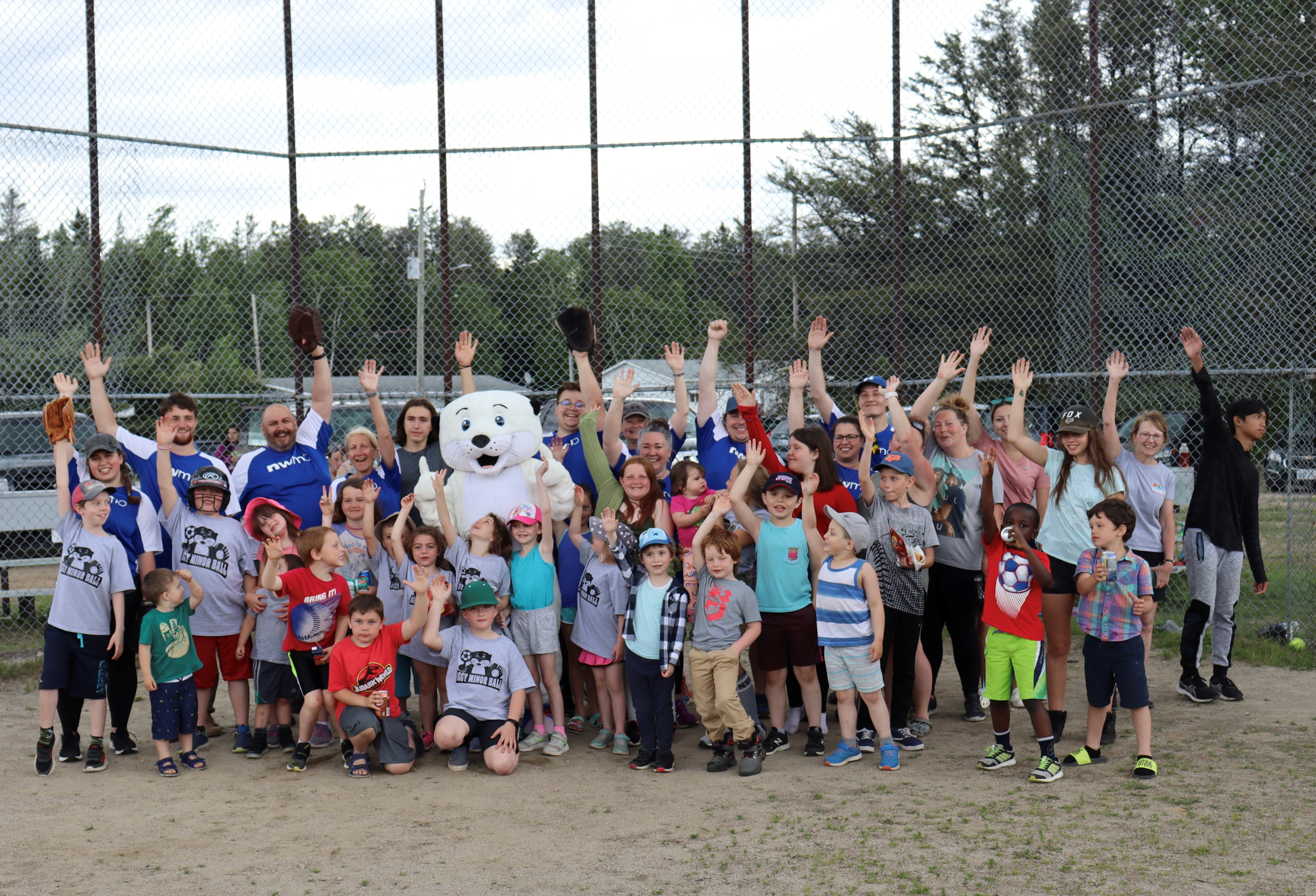 The kids were very excited when Ignace's mascot Iggy the White Otter made a pinch-hitting appearance in the game!
The Nuclear Waste Management Organization's (NWMO) Ignace team was delighted to take part in a baseball game to celebrate the return of minor league baseball to the township. Two kids' teams played the NWMO in a fun game of ball before enjoying a barbecue.
"Supporting youth in our communities is very important to us, as NWMO employees and as Ignace residents," said Chantelle Gascon, Community Liaison Manager at the NWMO. "We have wanted to get outside and celebrate this sponsorship with the kids last year, but we weren't able to have that opportunity until public health restrictions allowed it. Getting together with the kids was a lot of fun for all of us."
One of the ways we support the well-being of areas involved in the site selection process is through sponsorships and donations to community organizations and initiatives. Since 2014, this program has supported a wide variety of local and regional initiatives, including youth baseball in Ignace, Ont.
Chelsey McNally is one of the coaches of the Ignace youth baseball team. "When I first came to Ignace, I was surprised to hear there was no minor ball league for children. The two diamonds the town had to offer were not being used as much as they could be," said Ms. McNally. "Growing up, we always looked forward to spring because that meant baseball! We wanted to give kids this same opportunity."
The NWMO's Sponsorships and Donations program is meant to help small, local initiatives that support the well-being of communities. We have supported a wide range of activities in areas such as education, environment, Reconciliation, cultural initiatives and youth sports.
About the NWMO

The Nuclear Waste Management Organization (NWMO) is a not-for-profit organization tasked with the safe, long-term management of Canada's used nuclear fuel inside a deep geological repository, in a manner that protects people and the environment for generations to come.

Founded in 2002, the NWMO has been guided for more than 20 years by a dedicated team of world-class scientists, engineers and Indigenous Knowledge Holders that are developing innovative and collaborative solutions for nuclear waste management. Canada's plan will only proceed in an area with informed and willing hosts, where the municipality, First Nation and Métis communities, and others in the area are working together to implement it. The NWMO plans to select a site in 2024, and two areas remain in our site selection process: the Wabigoon Lake Ojibway Nation-Ignace area in northwestern Ontario and the Saugeen Ojibway Nation-South Bruce area in southern Ontario.