South Bruce, Ontario
Mobile learning lab promotes STEM and skilled trades among Bruce County youth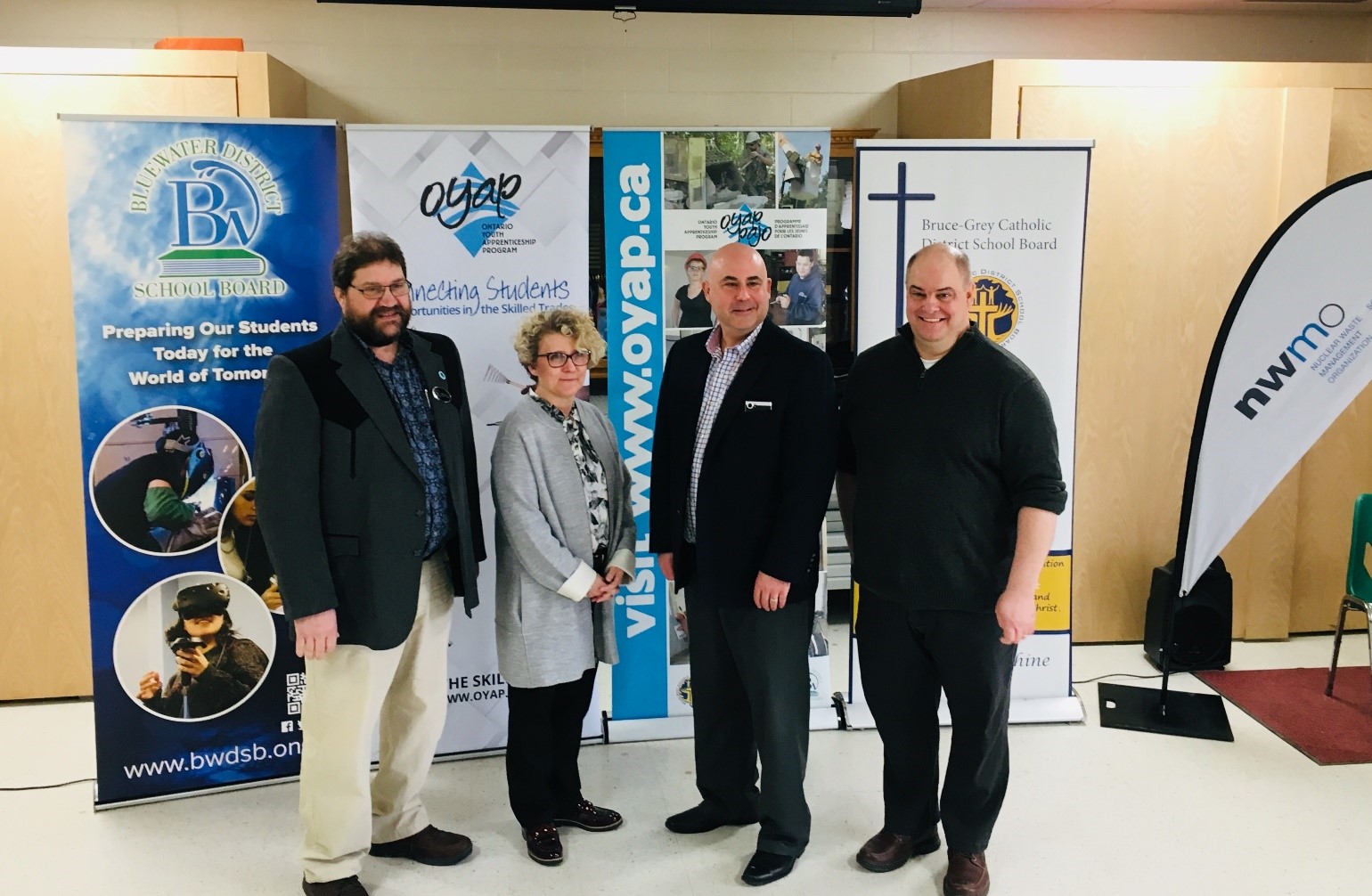 Local leaders celebrate the launch of a mobile learning lab in Bruce and Grey Counties with NWMO CEO Laurie Swami. From left: Mark Goetz, Deputy Mayor in South Bruce; Laurie Swami, NWMO President and CEO; Mitch Twolan, Mayor in Huron-Kinloss; and Dave Barrett, Coordinator/Facilitator for the Ontario Youth Apprenticeship Program.
A first-of-its-kind mobile learning lab will roll through Bruce and Grey Counties this summer.
This unique learning experience is a provincial first that will help students explore science, technology, engineering, and mathematics (STEM), and careers in the skilled trades. It was unveiled this spring thanks to strong leadership in South Bruce and Huron-Kinloss, and those communities' work with the Nuclear Waste Management Organization (NWMO).
"At the NWMO, we are passionate about promoting STEM education and the skilled trades – especially to young people. I am thrilled to see those values come to life in this mobile learning lab," said NWMO President and CEO Laurie Swami. "The Township of Huron-Kinloss and the Municipality of South Bruce took the initiative to get this mobile learning lab rolling, and we are so happy to support the partnerships that made it a reality. Our site selection process is all about working with communities to enable their priorities and build their capacity. This is one of the best ways we can go about doing so."
Trained staff will guide students through this fun, informative and hands-on mobile learning lab designed to help them explore and consider a future career in STEM fields and the skilled trades. This roving lab will provide students from Grade 7 onwards a unique way to engage with these dynamic topics – and explore future careers that are in high demand across Bruce County.
The lab is expected to officially start rolling in summer 2019 across the Bluewater District School Board and Bruce Grey Catholic District School Board. It is expected to reach over 20,000 students in 50 elementary schools and 11 secondary schools.
The lab will initially consist of simulation software and technology, including:
A welding simulator;

A crane simulator;

An excavator simulator;

A loader/backhoe and dozer simulator;

STEM simulation software; and

3D printing and robotics.
This learning opportunity was developed thanks to partnerships among those two school boards, the Four County Labour Market Planning Board (FCLMPB), and the Ontario Youth Apprenticeship Program, as well as the collaborative efforts of the Township of Huron-Kinloss, the Municipality of South Bruce and the NWMO.
Leaders in Huron-Kinloss and South Bruce recognize the important role the skilled trades play in the local economy and the opportunities for future employment in the Four County Area.
Both communities provided $12,500, and the NWMO contributed $50,000. The trailer for components of the lab was provided by the FCLMPB.
About the NWMO

The Nuclear Waste Management Organization (NWMO) is a not-for-profit organization tasked with the safe, long-term management of Canada's used nuclear fuel inside a deep geological repository, in a manner that protects people and the environment for generations to come.

Founded in 2002, the NWMO has been guided for more than 20 years by a dedicated team of world-class scientists, engineers and Indigenous Knowledge Holders that are developing innovative and collaborative solutions for nuclear waste management. Canada's plan will only proceed in an area with informed and willing hosts, where the municipality, First Nation and Métis communities, and others in the area are working together to implement it. The NWMO plans to select a site in 2024, and two areas remain in our site selection process: the Wabigoon Lake Ojibway Nation-Ignace area in northwestern Ontario and the Saugeen Ojibway Nation-South Bruce area in southern Ontario.