Care closer to home: Supporting palliative care in northern Ontario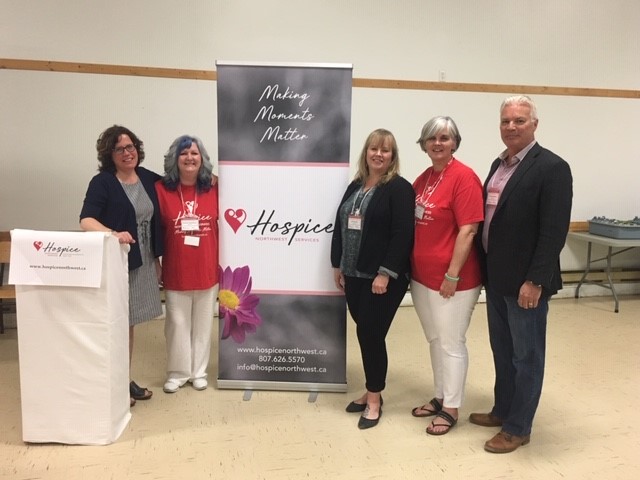 Left to right: Dr. Kathy Kortes-Miller, Assistant Professor at the School of Social Work at Lakehead University; Kimberly Ramsbottom, Masters of Social Work with a specialization in Gerontology at Lakehead University; Jill Marcella, Regional Palliative Care Program; Cherie Kok, Executive Director of Hospice Northwest; and Norman Sandberg, NWMO Relationship Manager.
Palliative care is a difficult but important topic, and sharing best practices can greatly improve the sector. That is why the Nuclear Waste Management Organization (NWMO) was pleased to contribute $5,000 to the two-day Palliative Care Conference in Marathon, Ont., to discuss best practices in the sector.
People may shy away from talking about death, but "educating our communities on the importance of advance care planning and the journey of a palliative care diagnosis is essential and providing that education supports our community," said Trena Roberts, a social worker with Manitouwadge Family Health Team and Hospice Northwest Coordinator.
"Without the NWMO, we would not be able to provide this conference to more than 45 delegates. The conference included personal support workers, health-care providers and Hospice Northwest volunteers, who learned more about how to care for individuals at their end of life," said Cherie Kok, Executive Director of Hospice Northwest. "The networking and face-to-face sharing was invaluable."
Jill Marcella from the Regional Palliative Care Program highlighted the importance of receiving care closer to home. "Supporting the delivery of palliative care in the community is essential to a caring and compassionate community," she said. "The Regional Palliative Care Program, along with St. Joseph's Care Group, is honoured to participate in this important learning opportunity, and having a business such as the NWMO that is willing to support the growth of building capacity in communities demonstrates an investment in the community and palliative care."
Participants from Manitouwadge, Marathon, Terrace Bay, Schreiber, Nipigon, Geraldton, and Heron Bay attended the event. Topics of the sessions at the conference included Talking About Death Won't Kill You, Hospice Palliative Care: It Is Everyone's Business, Die-alogues Don't Duck the Conversation: Personal Planning, Grief and Bereavement, Advance Care Planning, and Pain and Symptom Management.
Assistant Professor at the School of Social Work and the Palliative Care Division Lead at the Centre for Education and Research on Aging and Health at Lakehead University, Dr. Kathy Kortes-Miller, delivered the keynote address.
"We are pleased to be supporting this important conference. Planning for the end of life is a difficult conversation," said Norman Sandberg, NWMO Relationship Manager for the area.
Karen Robinson, NWMO Community Liaison Manager, also attended the conference.