Reconciliation
The NWMO shares groundbreaking approach to applying Indigenous Knowledge and Reconciliation at the WiN Global Conference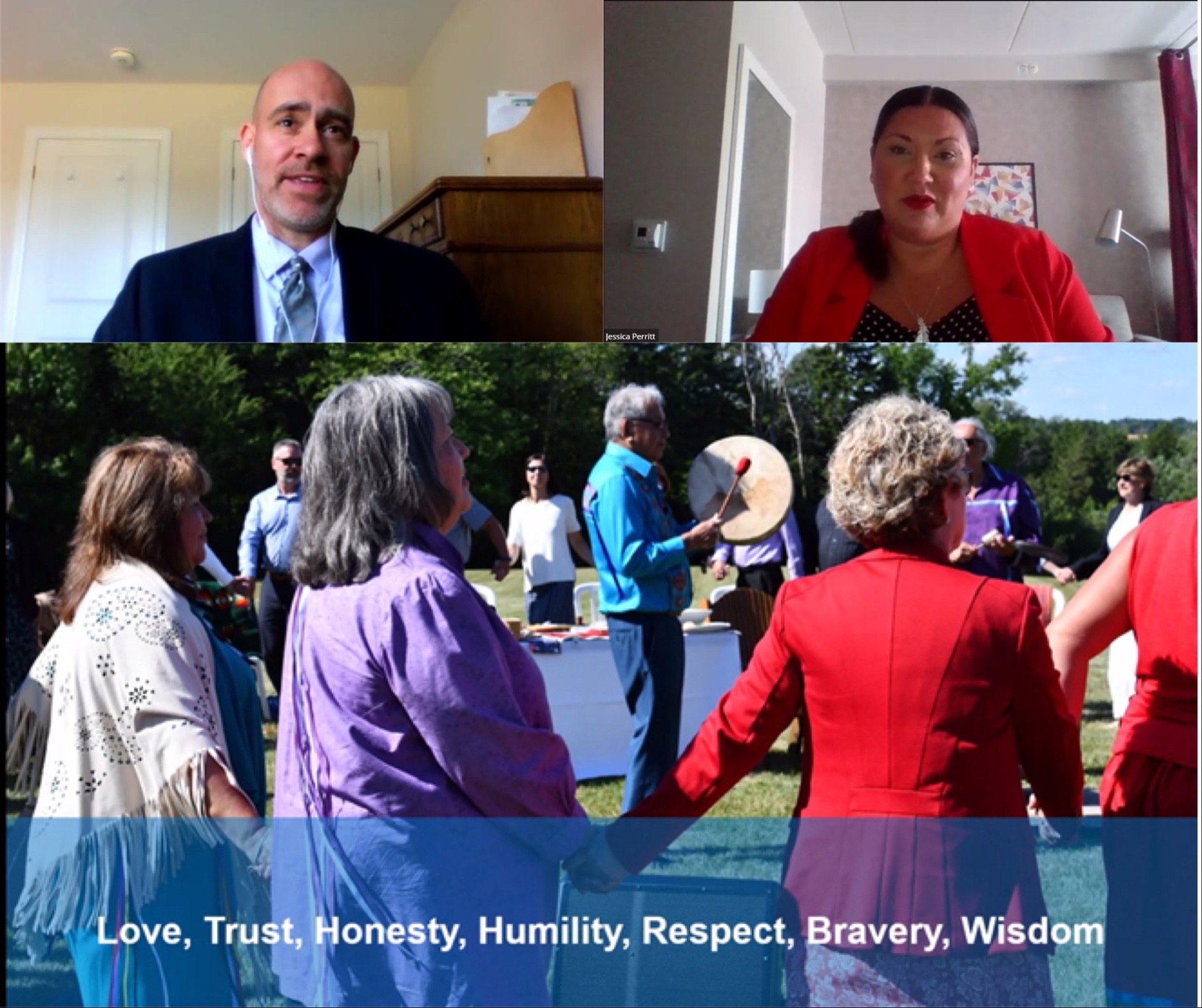 The NWMO's Chris Vardy, Director of Management System and Performance Improvement, and Jessica Perritt, Section Manager of Indigenous Knowledge and Reconciliation, talk about Continuous Learning and Improvement Program during the WiN Global Conference.
Learning and improvement programs are standard in the nuclear sector, but the Nuclear Waste Management Organization (NWMO) has created an innovative approach to incorporate an Indigenous Knowledge and Reconciliation lens into our continuous learning.
During the Women in Nuclear (WiN) Global Conference on Oct. 18, the NWMO's Chris Vardy, Director of Management System and Performance Improvement, together with Jessica Perritt, Section Manager of Indigenous Knowledge and Reconciliation, spoke about how our work is using an innovative approach to partnership that is setting a new standard for research, community partnership, and Indigenous collaboration and co-creation.
Mr. Vardy worked with Ms. Perritt to create a new Continuous Learning and Improvement Program (CLIP) that provides all NWMO employees with a tool to capture opportunities, recognition, incidents, observations, and/or non-conformances (also known as ORIONs), for the purpose of learning and improving.

"The NWMO encourages all employees to contribute to our continuous improvement initiatives. This means avoiding complacency, challenging assumptions, and questioning the status quo to optimize the safety, efficiency, and effectiveness of our operations," said Mr. Vardy. "Jessica's work is instrumental to ensuring that respect for Indigenous perspectives is core to our work. It is important for industry partners, both national and international, to see how this core value is shaped and actioned at our organization."
Since the NWMO's work began in 2002, we have actively sought out opportunities to learn from local Indigenous Knowledge Keepers and apply that learning to planning and decision-making processes. In 2016, the NWMO finalized an Indigenous Knowledge Policy committing the organization to interweaving Indigenous Knowledge into all aspects of our work.
"I felt it was important that I help implement this program so that all our employees understood that Indigenous Knowledge is just as important as western science when it comes to how we learn and improve as an organization," said Ms. Perritt. "I also wanted to ensure that the NWMO is reflecting and acknowledging on how Indigenous Knowledge is making our work and organization better."
The Indigenous Knowledge Policy helps guide us in the application of Indigenous Knowledge, while also ensuring that this knowledge system is both respected and protected in its application. Indigenous Knowledge is a complex and sophisticated system of knowledge drawing on millennia of wisdom and experience. It is ever evolving and includes a diverse range of knowledge on topics such as governance, ecology, science, conflict resolution, and more. It constantly grows and expands with the experience of new generations.
One of the foundational principles of this program is learning from one another to ensure as an organization that relationships are valued and effective. The goal is to discover from other employees what is and is not working well, to identify opportunities for improvement and to celebrate our successes.
"I have learned that 25 per cent of the records (ORIONs) so far are related to Reconciliation and 10 per cent of those have been inputted from employees outside the Indigenous Relations department," said Ms. Perritt. "These numbers tell me that there is a behaviour shift happening within the organization, and Reconciliation and Indigenous Knowledge are starting to become part of an NWMO culture and values."
Key relevant learnings from this program are shared and addressed with the entire organization. And because of this program, we can also identify trends, and focus and prioritize our efforts more effectively.
"I feel really fortunate to work with Chris and other colleagues that are eager to interweave Indigenous Knowledge into their work that comes from a place of humility and openness," said Ms. Perritt. "It creates an environment of implementing our sacred teachings in practical ways."
About Jessica Perritt
Jessica Perritt is a member of the Chippewas of Nawash Unceded First Nation and a proud Anishnaabe-kwe (Ojibway woman). She is a mother to two sons, daughter, granddaughter, wife, sister, auntie, niece, and cousin. Ms. Perritt joined the NWMO in 2008 and had been instrumental in creating the NWMO's Indigenous Knowledge Policy and Reconciliation Policy, and in liaising with the Council of Elders and Youth. Her formal education is within western science, majoring in Physics and Mathematics, and she has also received Indigenous education from Elders and Indigenous Knowledge Keepers throughout her life. Ms. Perritt has brought respect for Indigenous perspectives to life at the NWMO, and her next big project is helping the NWMO take further steps towards our journey in Reconciliation, providing a true example for the rest of corporate Canada.
About Chris Vardy
Chris Vardy has a crucial role within the NWMO overseeing the financial surety of the Adaptive Phased Management Project. His career covers many aspects of business – budgeting, reporting, billing, technology, finance, human resources, procurement, and administration – for a wide range of companies. He is a mathematician, chartered accountant, and information systems specialist. His roles have provided him and his family with opportunities and adventures far from his home in Toronto, including Dallas, New York, Los Angeles, and most excitingly, Doha, the capital city of Qatar.
About the NWMO

The Nuclear Waste Management Organization (NWMO) is a not-for-profit organization tasked with the safe, long-term management of Canada's used nuclear fuel inside a deep geological repository, in a manner that protects people and the environment for generations to come.

Founded in 2002, the NWMO has been guided for more than 20 years by a dedicated team of world-class scientists, engineers and Indigenous Knowledge Holders that are developing innovative and collaborative solutions for nuclear waste management. Canada's plan will only proceed in an area with informed and willing hosts, where the municipality, First Nation and Métis communities, and others in the area are working together to implement it. The NWMO plans to select a site in 2024, and two areas remain in our site selection process: the Wabigoon Lake Ojibway Nation-Ignace area in northwestern Ontario and the Saugeen Ojibway Nation-South Bruce area in southern Ontario.