About the NWMO
NWMO Supports Children's Literacy Program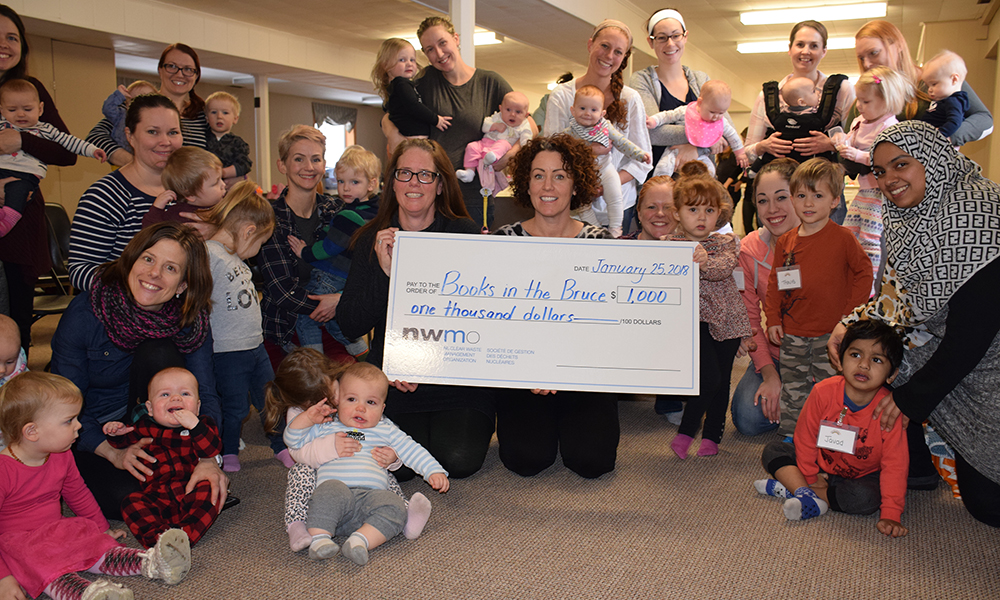 The Nuclear Waste Management Organization (NWMO) was pleased to recently partner with Books in the Bruce – a non-profit monthly literacy program developed to help create access to reading opportunities for children in the community (see video).
Colleen Shute, founder and organizer of the program, is thrilled with the support of partners like the NWMO.
"Gaining support and financial assistance from the community and companies like the NWMO helps to deliver children's literacy into the home and hands of young minds," she said. "With all the technology these days, it's rewarding to watch children sit down with a book in a positive learning atmosphere and let their minds create, imagine and go places they never thought possible."
Books in the Bruce hosts 20 families at the Pine River United Church where they have access to healthy snacks and refreshments before beginning with a welcoming sing-a-long followed by the reading of two separate books. After a few more songs, the families decide which of the two books they would like to take home to add to their own library. The program began in September and will finish, for this year, at the end of June.
For more information about Books in the Bruce, visit them on Facebook.
About the NWMO

The Nuclear Waste Management Organization (NWMO) is a not-for-profit organization tasked with the safe, long-term management of Canada's used nuclear fuel inside a deep geological repository, in a manner that protects people and the environment for generations to come.

Founded in 2002, the NWMO has been guided for more than 20 years by a dedicated team of world-class scientists, engineers and Indigenous Knowledge Holders that are developing innovative and collaborative solutions for nuclear waste management. Canada's plan will only proceed in an area with informed and willing hosts, where the municipality, First Nation and Métis communities, and others in the area are working together to implement it. The NWMO plans to select a site in 2024, and two areas remain in our site selection process: the Wabigoon Lake Ojibway Nation-Ignace area in northwestern Ontario and the Saugeen Ojibway Nation-South Bruce area in southern Ontario.