About the NWMO
The NWMO supports Habitat for Humanity build at Saugeen First Nation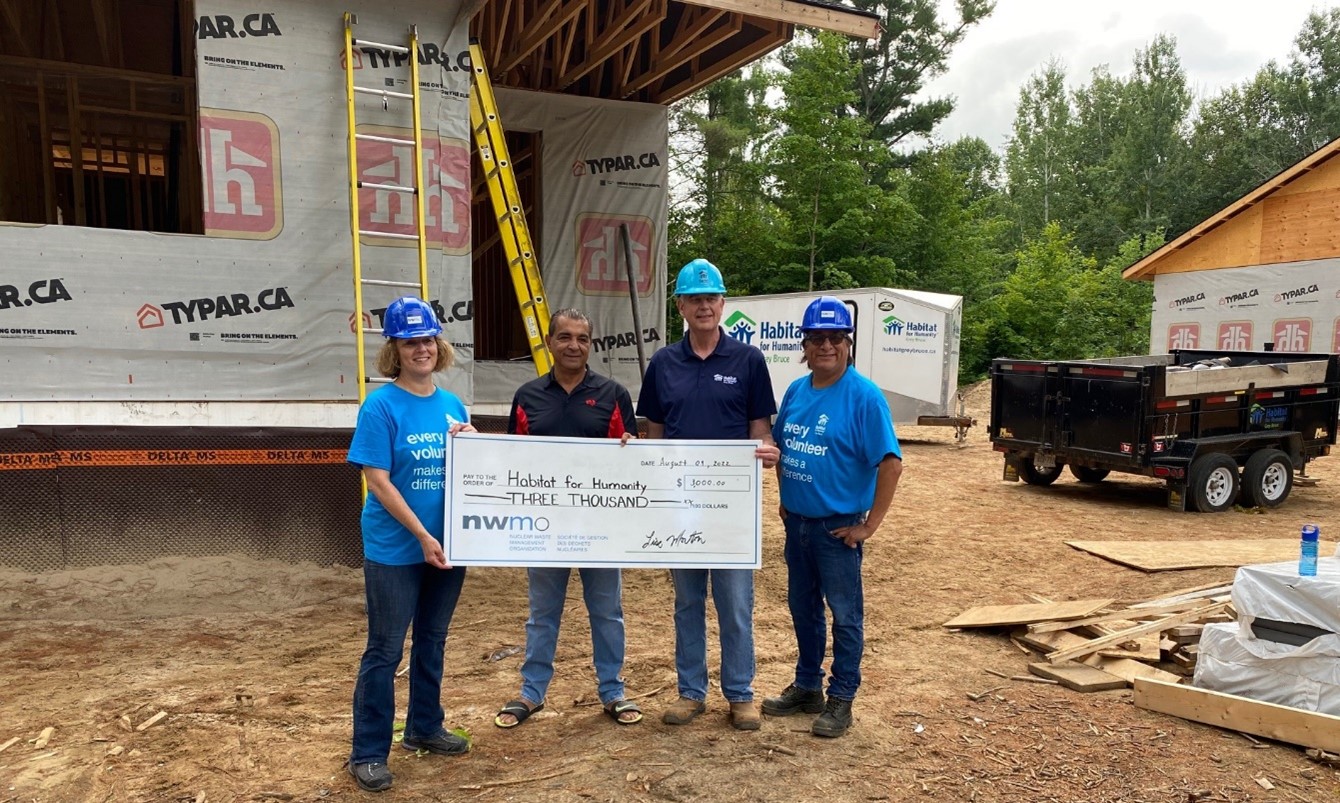 The NWMO presents a cheque supporting the Habitat for Humanity build at Saugeen First Nation (Left to Right: Lise Morton, Vice President of Site Selection at the NWMO, Chief Lester Anoquot of Saugeen First Nation, Greg Fryer, Habitat for Humanity Executive Director and Greg Plain, Southern Ontario Senior Engagement Advisor.)
SOUTHAMPTON, Ont.— The Nuclear Waste Management Organization (NWMO) contributed $3,000 and plenty of hard-working personnel to Habitat for Humanity through its local and regional sponsorship program. Employees joined volunteers from the Municipality of South Bruce to help build homes for members of the Saugeen Ojibway Nation.
Through this collaborative effort, homeowners work with Habitat for Humanity and members of the community to build or improve places that they can call home. Habitat gives them the chance to succeed so they can improve their lives and those of future generations.
"The NWMO continues to look for opportunities that will help the community now and in the future as part of our commitment to being good local partners. That is why we are proud to support organizations like Habitat for Humanity," said Greg Plain, NWMO Senior Engagement Advisor. "It was quite an easy task to find staff to fill the 20-person roster after explaining what we could be doing with the community and how the housing stock will be assisted in the community."
The donation will support a local housing project, where seven homes will be built for members of the Saugeen Ojibway Nation.
"The needs of the First Nation membership will be greatly impacted by your generosity and time taken to come out to assist with the Build," said Chief Lester Anoquot, who was on hand to thank the NWMO for supporting the Saugeen First Nation Habitat Build. "The community watches on a daily basis as to who is coming to assist with the Habitat Build and our own leadership is happy that your organization has opted to build with us today. This is for the families and for the children within those families that will benefit from more housing stock at the Saugeen First Nation"
The NWMO's local sponsorship and donation program focuses on the well-being of areas involved in the site selection process. We want to empower organizations in the site selection areas to do what they do best – build better communities.
About the NWMO

The Nuclear Waste Management Organization (NWMO) is a not-for-profit organization tasked with the safe, long-term management of Canada's used nuclear fuel inside a deep geological repository, in a manner that protects people and the environment for generations to come.

Founded in 2002, the NWMO has been guided for more than 20 years by a dedicated team of world-class scientists, engineers and Indigenous Knowledge Holders that are developing innovative and collaborative solutions for nuclear waste management. Canada's plan will only proceed in an area with informed and willing hosts, where the municipality, First Nation and Métis communities, and others in the area are working together to implement it. The NWMO plans to select a site in 2024, and two areas remain in our site selection process: the Wabigoon Lake Ojibway Nation-Ignace area in northwestern Ontario and the Saugeen Ojibway Nation-South Bruce area in southern Ontario.