Canada's plan
The NWMO welcomes geoscientists from around the world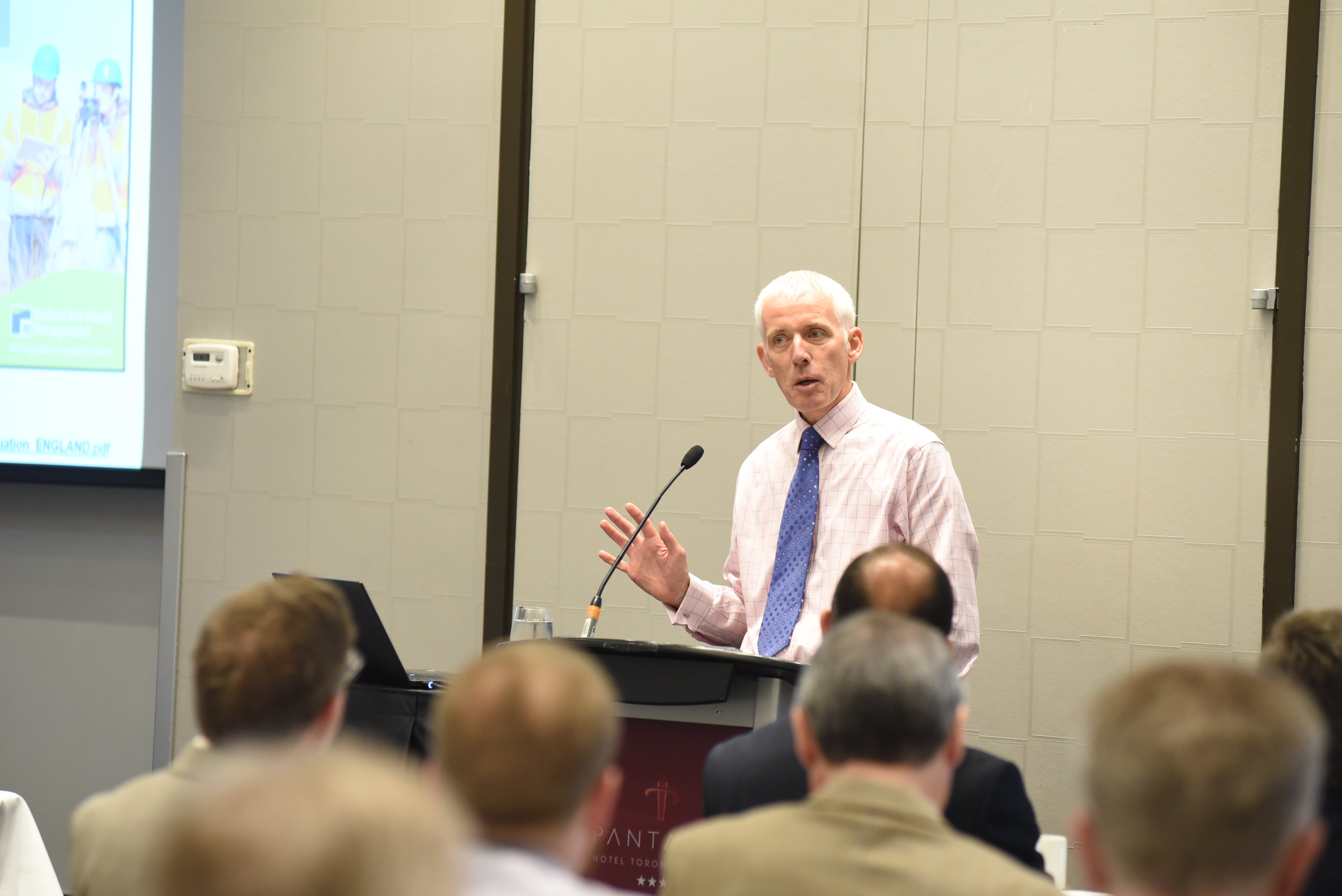 Jonathan Turner, Chief Geologist at Radioactive Waste Management in the United Kingdom, speaks to Canadian and international geoscientists at the NWMO's 17th annual Geoscience Seminar in Toronto.
For the 17th year in a row, the Nuclear Waste Management Organization (NWMO) welcomed geoscientists from around the world to collaborate and discuss their research.
Some 100 geoscientists gathered in Toronto in June for the two-day event, which featured presentations from Canadian and international researchers working in crystalline and sedimentary rocks. Some of the topics discussed include discrete fracture networks in crystalline rocks, the respective geochemistry of both crystalline and sedimentary rock, and the geomechanics of sedimentary rocks.
On the second day of the seminar, the attendees toured the NWMO's proof test facility in Oakville, Ont. While there, they learned first-hand how the NWMO's work and research to demonstrate key components of the engineered-barrier system intersect with their own work to understand the intricacies of crystalline or sedimentary rock. These types of rock formations may one day host the NWMO deep geological repository.
"The seminar provides a valuable opportunity for in-person discussions of geoscience research currently underway, and for information and knowledge exchange," said Monique Hobbs, NWMO Manager of Geoscience Research and Development. "We heard from NWMO staff and from researchers about several new ideas for collaborations that arose from what they saw, heard and discussed with one another during the two-day seminar."
Dr. Hobbs also highlighted the opening ceremony led by Elder Diane Longboat, a member of the NWMO's Council of Elders and Youth, and the presentation from Jessica Perritt, Senior Advisor for Indigenous Knowledge at the NWMO. They both provided knowledge and guidance to the geoscientists from an Indigenous perspective, offering a different and valuable insight to their work.
The NWMO geoscience team will continue to work with specialists from Canada and around the world to ensure Canada's plan continues to be based on and benefit from the best science.
About the NWMO

The Nuclear Waste Management Organization (NWMO) is a not-for-profit organization tasked with the safe, long-term management of Canada's used nuclear fuel inside a deep geological repository, in a manner that protects people and the environment for generations to come.

Founded in 2002, the NWMO has been guided for more than 20 years by a dedicated team of world-class scientists, engineers and Indigenous Knowledge Holders that are developing innovative and collaborative solutions for nuclear waste management. Canada's plan will only proceed in an area with informed and willing hosts, where the municipality, First Nation and Métis communities, and others in the area are working together to implement it. The NWMO plans to select a site in 2024, and two areas remain in our site selection process: the Wabigoon Lake Ojibway Nation-Ignace area in northwestern Ontario and the Saugeen Ojibway Nation-South Bruce area in southern Ontario.