Wabigoon Lake Ojibway Nation-Ignace area
The NWMO advances borehole drilling and testing activities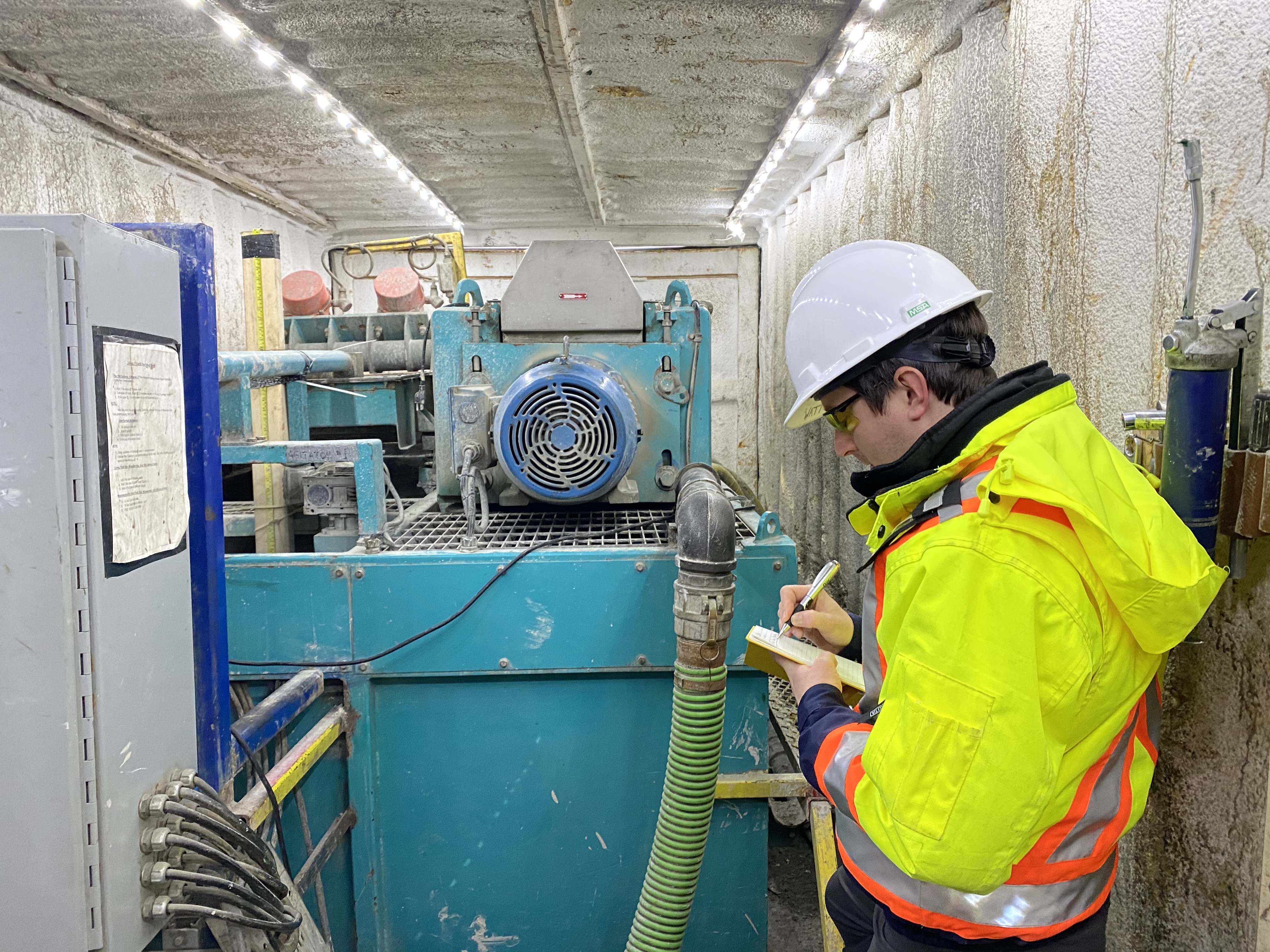 Martin Sykes, Geologist at the NWMO, inspecting the contractor's drill rig fluid recirculation system at a borehole site.
Before selecting a preferred potential repository site, the Nuclear Waste Management Organization (NWMO) will develop a strong safety case that will demonstrate the safety of the repository at that location.
Geoscientific studies are ongoing to further assess if the crystalline rock in the Revell Batholith formation, an area located between Ignace and Wabigoon Lake, has the potential to host a deep geological repository.
Geoscience studies conducted to date have included activities such as desktop studies, airborne geophysical surveys, geological mapping, and borehole drilling and testing activities.
"We are continuing to refine our understanding of the geosphere. This feeds into the safety case, which brings together all the information that contribute towards our understanding of whether a repository at the site could safely contain and isolate used nuclear fuel," said Maria Sanchez-Rico Castejon, Section Manager of Geoscientific Site Investigations at the NWMO.
The NWMO expects to complete drilling of the fourth borehole in spring 2020, and to start drilling the fifth and sixth borehole later this year. All the boreholes are located within a few kilometres of each other.
"In our boreholes, we have encountered almost all the same rock type – a type of crystalline rock called 'tonalite.' The data we have collected at this early stage is consistent with our initial understanding of an old, stable geosphere at depth," said Ms. Sanchez-Rico Castejon.
On-site testing for borehole one, two and three is now completed. Core (rock) and water samples collected during drilling are being analyzed in Canadian and international laboratories to gather information about a variety of parameters that together allow us to develop an integrated understanding of the geosphere.
The NWMO is working together with local communities, including area First Nation and Métis communities, to monitor environmental performance.
"We are continuing to work with a local Indigenous community as we conduct our fieldwork activities to maintain our commitment to protect people, water and the environment. We appreciate this mutual learning process," said Joe Heil, Section Manager of Site Engagement for Indigenous Relations at the NWMO.
The Ignace area is one of two areas currently involved in the NWMO's site selection process. The project will only proceed with interested communities, including First Nation and Métis communities and surrounding municipalities, working together to implement it.
About the NWMO

The Nuclear Waste Management Organization (NWMO) is a not-for-profit organization tasked with the safe, long-term management of Canada's used nuclear fuel inside a deep geological repository, in a manner that protects people and the environment for generations to come.

Founded in 2002, the NWMO has been guided for more than 20 years by a dedicated team of world-class scientists, engineers and Indigenous Knowledge Holders that are developing innovative and collaborative solutions for nuclear waste management. Canada's plan will only proceed in an area with informed and willing hosts, where the municipality, First Nation and Métis communities, and others in the area are working together to implement it. The NWMO plans to select a site in 2024, and two areas remain in our site selection process: the Wabigoon Lake Ojibway Nation-Ignace area in northwestern Ontario and the Saugeen Ojibway Nation-South Bruce area in southern Ontario.