About the NWMO
The NWMO and South Bruce Work Together to Provide Learning Opportunities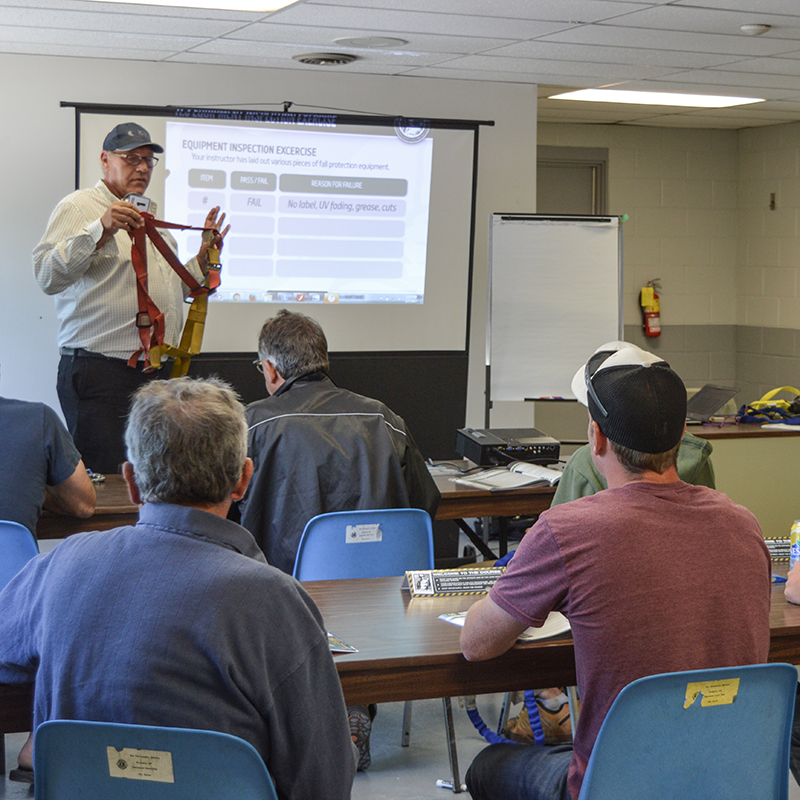 Instructor James Kemper demonstrates the proper way to wear a harness during a Working at Heights training session held in South Bruce.
Working together, the NWMO and Municipality of South Bruce recently provided opportunities for participants to take Working at Heights training and First Aid CPR "A" courses.
The training was provided through the NWMO's Early Investment in Education and Skills program. The purpose of the program is to provide investments in training and education for community members, including youth. It is hoped that participants will develop transferable skills that could potentially be applied to the Adaptive Phased Management (APM) project, and other projects or workplaces.
The program is also providing 10 workshops for youth through Scientists in School.
About the NWMO

The Nuclear Waste Management Organization (NWMO) is a not-for-profit organization tasked with the safe, long-term management of Canada's used nuclear fuel inside a deep geological repository, in a manner that protects people and the environment for generations to come.

Founded in 2002, the NWMO has been guided for more than 20 years by a dedicated team of world-class scientists, engineers and Indigenous Knowledge Holders that are developing innovative and collaborative solutions for nuclear waste management. Canada's plan will only proceed in an area with informed and willing hosts, where the municipality, First Nation and Métis communities, and others in the area are working together to implement it. The NWMO plans to select a site in 2024, and two areas remain in our site selection process: the Wabigoon Lake Ojibway Nation-Ignace area in northwestern Ontario and the Saugeen Ojibway Nation-South Bruce area in southern Ontario.