Selecting a site
The NWMO awards bursaries to Aamjiwnaang First Nation students excelling in STEM fields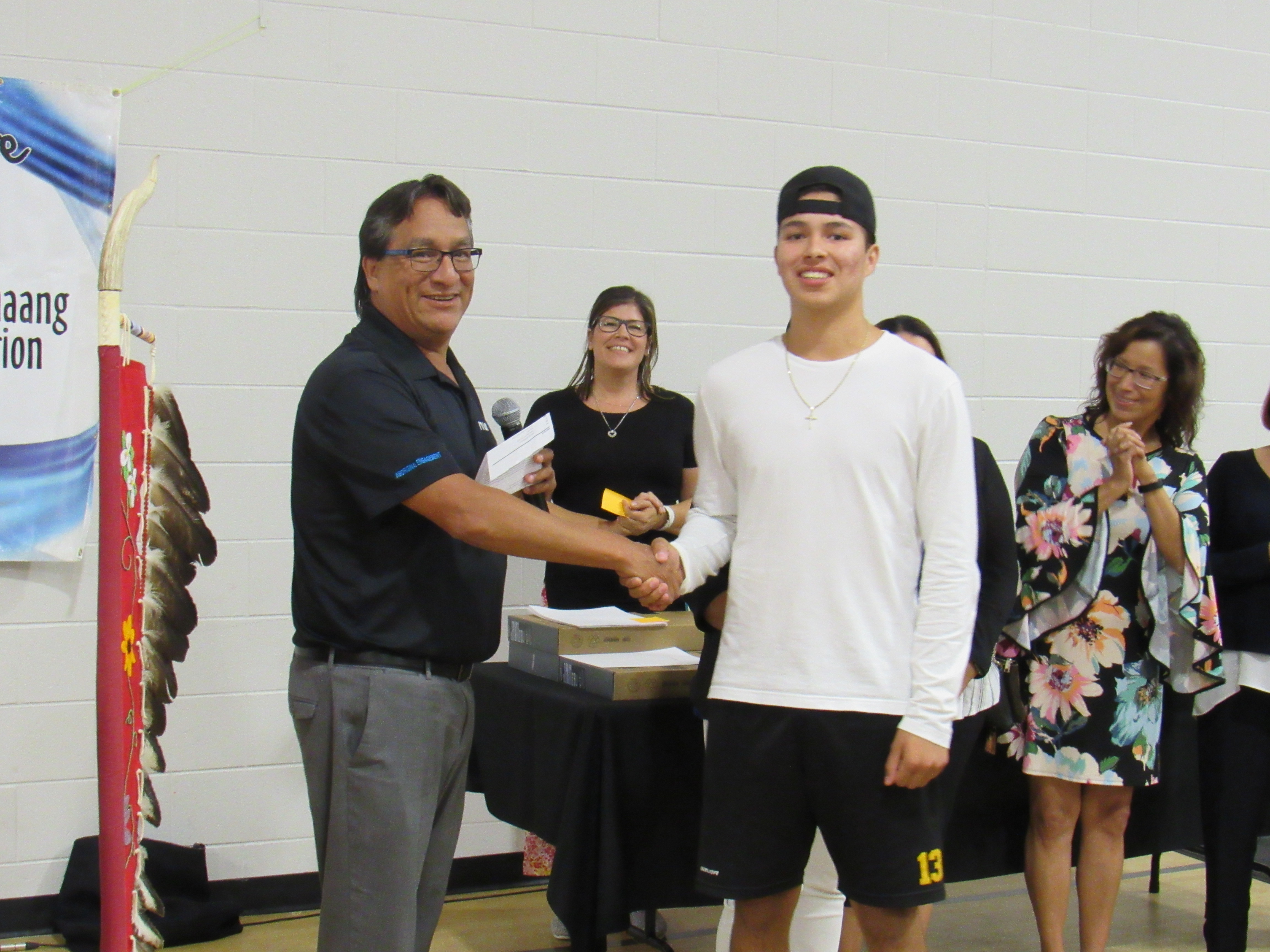 Greg Plain, Senior Engagement Advisor for southern Ontario at the NWMO, awards a scholarship to Great Lakes Secondary School student Levi Plain.
Two students from Aamjiwnaang First Nation were recently awarded bursaries for their outstanding achievement in the STEM (science, technology, engineering, and mathematics) fields.
On Aug. 15, 2019, Aamjiwnaang First Nation held its High School and Post-Secondary Education Awards Ceremonies. The Nuclear Waste Management Organization (NWMO) has been sponsoring a bursary program with Aamjiwnaang First Nation for the past three years. The awards are given to students with the highest marks in mathematics and skilled trades.
"The NWMO bursary encourages our students to explore mathematics and skilled trades at the secondary level, which can lead to plenty of career options as they plan for their future," said Vicky Ware, Aamjiwnaang Education Coordinator.
This year's recipients were Levi Plain and Heidi Piche. Mr. Plain, a Grade 11 student from Great Lakes Secondary School in Sarnia, is currently studying Foundations for College mathematics and garnered the highest marks in his class.
Ms. Piche, a Grade 11 student from Orillia High School, is studying Construction Technology and also achieved the highest marks in her class.
"We are happy to support local youth pursuing STEM fields and wish these students all the best as they pursue their education," said Greg Plain, Senior Engagement Advisor at the NWMO and Aamjiwnaang First Nation member.
About the NWMO

The Nuclear Waste Management Organization (NWMO) is a not-for-profit organization tasked with the safe, long-term management of Canada's used nuclear fuel inside a deep geological repository, in a manner that protects people and the environment for generations to come.

Founded in 2002, the NWMO has been guided for more than 20 years by a dedicated team of world-class scientists, engineers and Indigenous Knowledge Holders that are developing innovative and collaborative solutions for nuclear waste management. Canada's plan will only proceed in an area with informed and willing hosts, where the municipality, First Nation and Métis communities, and others in the area are working together to implement it. The NWMO plans to select a site in 2024, and two areas remain in our site selection process: the Wabigoon Lake Ojibway Nation-Ignace area in northwestern Ontario and the Saugeen Ojibway Nation-South Bruce area in southern Ontario.