About the NWMO
The NWMO partners with Bruce Power on hand sanitizer initiative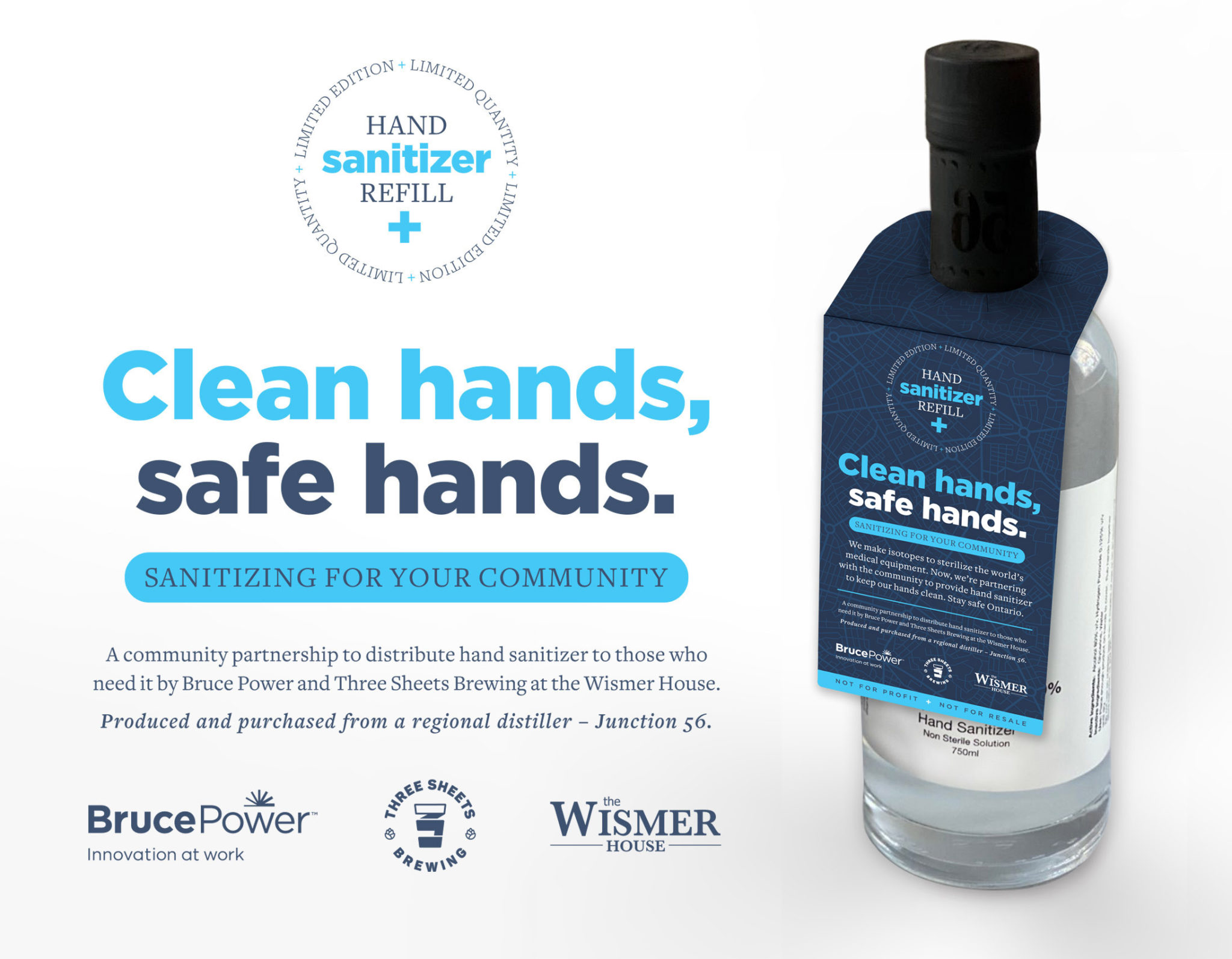 Source: Bruce Power
The Nuclear Waste Management Organization (NWMO) recently joined together with community and industry partners to provide free hand sanitizer to those who need it across municipal and Indigenous communities in Bruce, Grey and Huron counties. The initiative was spearheaded by Bruce Power and will allow for the distribution and donation of over 50,000 bottles of hand sanitizer.
"We all need to do what we can to help address the COVID-19 pandemic,"
said
Ben Belfadhel, Vice-President of Site Selection at the NWMO.
"This initiative is a great example of companies and organizations coming together to protect the health and well-being of the communities where we are active."

"Bruce Power is very grateful to everyone supporting this program to protect not only our essential services, but also our residents trying to stay safe from COVID-19," said Chris Mercanti, Manager of Community and Indigenous Relations. "It's been said frequently during this pandemic that together we can do great deeds. Today's announcement is a shining example as corporate Canada, supply chain, a municipality, a board of education and community programs are showing kindness, generosity and goodwill that will allow us to make safer the lives of thousands of Ontarians."

Through the initiative, Bruce Power secured 50,000 bottles of hand sanitizer from Junction 56 Distillery.
The Wismer House in Port Elgin, along with staff from MacLean's Ale in Hanover, will facilitate distribution to county organizations and others in need, free of charge. Distribution is slated to begin April 27.

The NWMO's investment will support distribution of hand sanitizer to food banks and others in need in the South Bruce area. The NWMO recently provided a one-time investment of $25,000 to the Municipality of South Bruce as well as other municipalities and Indigenous communities engaged in the site selection process for Canada's plan for the safe, long-term management of used nuclear fuel. The investment supports communities through the COVID-19 pandemic, in areas such as community well-being, health concerns, food insecurities and basic supplies.
About the NWMO

The Nuclear Waste Management Organization (NWMO) is a not-for-profit organization tasked with the safe, long-term management of Canada's used nuclear fuel inside a deep geological repository, in a manner that protects people and the environment for generations to come.

Founded in 2002, the NWMO has been guided for more than 20 years by a dedicated team of world-class scientists, engineers and Indigenous Knowledge Holders that are developing innovative and collaborative solutions for nuclear waste management. Canada's plan will only proceed in an area with informed and willing hosts, where the municipality, First Nation and Métis communities, and others in the area are working together to implement it. The NWMO plans to select a site in 2024, and two areas remain in our site selection process: the Wabigoon Lake Ojibway Nation-Ignace area in northwestern Ontario and the Saugeen Ojibway Nation-South Bruce area in southern Ontario.