Canada's plan
The NWMO signs new co-operation agreement with Taiwanese counterpart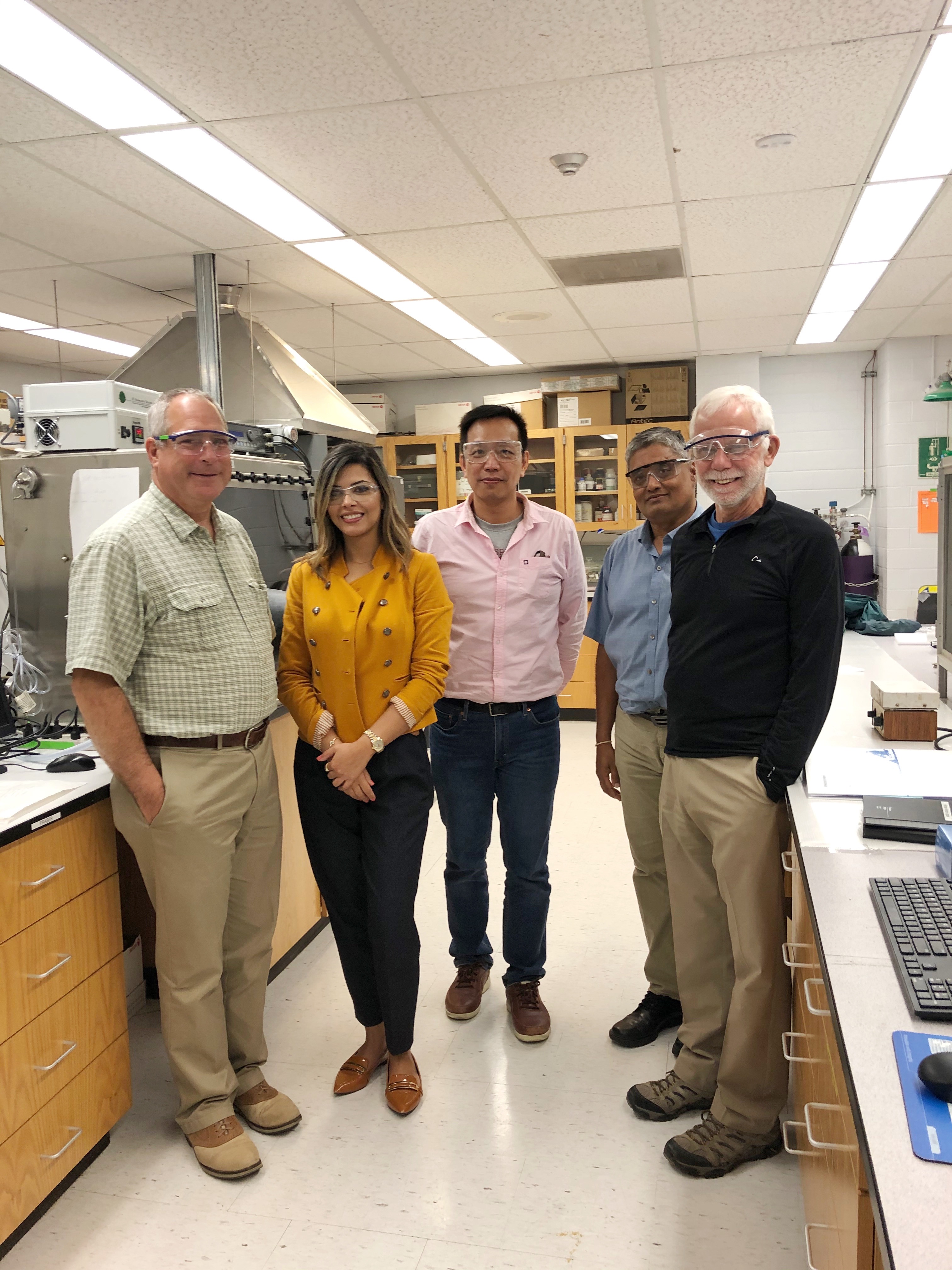 From left: Dr. Jamie Noel, Dr. Mehran Behazin, Dr. Tung Yuan (Romeo) Yung, Dr. Sridhar Ramamurthy, and Dr. David Shoesmith visiting a corrosion/electrochemistry lab at Western University.
Canada's Nuclear Waste Management Organization (NWMO) has signed a new memorandum of understanding with our Taiwanese counterpart – the Institute of Nuclear Energy Research (INER).
A representative from INER, Tung Yuan (Romeo) Yung, visited the NWMO on Oct. 9 to explore areas for future collaboration. Dr. Yung also visited Western University on Oct. 10, where he toured laboratories and learned about research being conducted to support our project.
INER is particularly interested in the NWMO's partnerships with universities, and hopes to identify opportunities for its team members to work as visiting scientists at some of our partner research facilities.
The NWMO's research partnerships with universities play an important role in our technical research to deepen our understanding of the engineered and natural barriers that will work together to contain and isolate used nuclear fuel, protecting people and the environment.
"The hope is to help INER develop their experimental capabilities and share future data," said Dr. Mehran Behazin, Corrosion/Microbiology Scientist, at the NWMO.
This new agreement with INER demonstrates the NWMO's commitment to co-operating with other organizations, and sharing technology, experiences, and best practices for safely managing used nuclear fuel.
This agreement joins nine accords already in place with nuclear waste organizations in Finland, Japan, Belgium, France, Sweden, Switzerland, South Korea, and the United Kingdom.
About the NWMO

The Nuclear Waste Management Organization (NWMO) is a not-for-profit organization tasked with the safe, long-term management of Canada's used nuclear fuel inside a deep geological repository, in a manner that protects people and the environment for generations to come.

Founded in 2002, the NWMO has been guided for more than 20 years by a dedicated team of world-class scientists, engineers and Indigenous Knowledge Holders that are developing innovative and collaborative solutions for nuclear waste management. Canada's plan will only proceed in an area with informed and willing hosts, where the municipality, First Nation and Métis communities, and others in the area are working together to implement it. The NWMO plans to select a site in 2024, and two areas remain in our site selection process: the Wabigoon Lake Ojibway Nation-Ignace area in northwestern Ontario and the Saugeen Ojibway Nation-South Bruce area in southern Ontario.