About the NWMO
The NWMO supports STEM education with Ontario Tech scholarships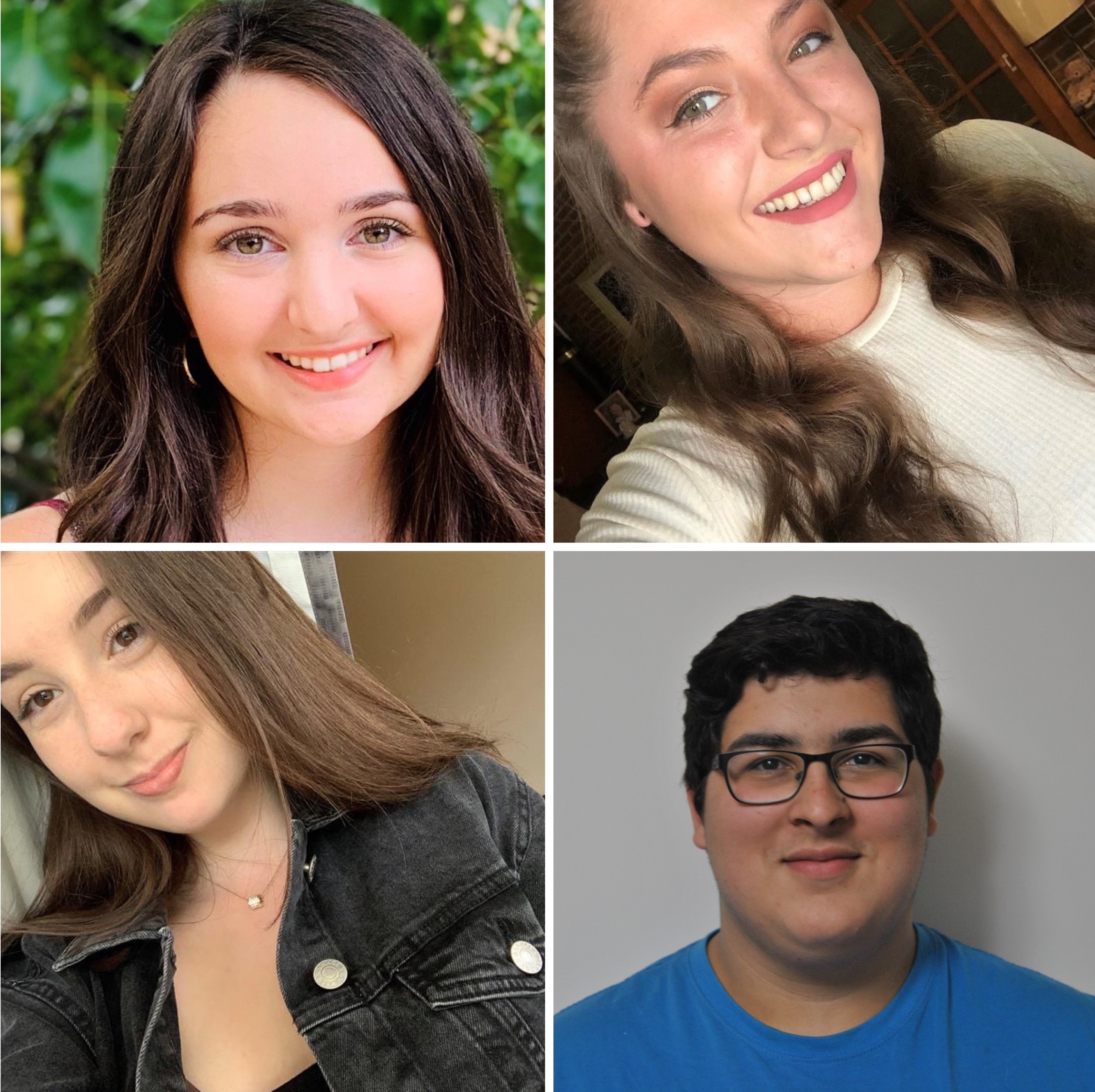 From left to right, Maria Accardi, Jenna Diotte, Mary-Ann Semjan, and Dimitri Rios Nadeau, the four recipients of scholarships at Ontario Tech funded by the NWMO.
The Nuclear Waste Management Organization (NWMO) continues to support women pursuing an education in science, technology, math and engineering (STEM) on this International Day of Women and Girls in Science, and every day of the year.
As part of its commitment to supporting access to STEM education, the NWMO is pleased to announce the recipients of four scholarships for students at OntarioTech University. These scholarships build on programs the NWMO supports across Canada, from elementary school through post-graduate studies, to promote learning in STEM.
The scholarships are part of a five-year agreement the NWMO and Ontario Tech signed last year to support The Nuclear Waste Management Organization Women for STEM Scholarship and The Nuclear Waste Management Organization Indigenous Student Success Award.
The Women for STEM scholarships are part of a program that the university launched in 2019, with the goal of increasing gender parity in STEM careers. The NWMO was pleased to join others in supporting those scholarships in the program's its inaugural year and to extend this support in the years to come.
"At the NWMO, we are committed to supporting access to STEM education for women, Indigenous people and other historically underrepresented groups," said Lisa Frizzell, Vice President of Communications at the NWMO. "We are so pleased to celebrate these recipients, as we know that promoting diversity in STEM — and in the nuclear industry — has to start with increasing access to education."
The recipients of the 2020-21 scholarships are:
Maria Accardi
Major: Nuclear Engineering
Recipient of the NWMO Women for STEM Scholarship
"Receiving this Women For Stem Scholarship has impacted me tremendously, with the recognition of my dedication towards my studies further encouraging me to maintain such standards throughout the entirety of my degree. I am extremely excited to apply my acquired knowledge and strengths, continuing to expand my desire to learn and grow. I strive to continue working towards achieving my goals and ambitions and remain confident in my ability to effectively overcome the gender barriers present in such a predominantly male dominated field of engineering. As I progress through this experience, I remain extremely grateful that I am able to do so, without the associated financial burdens. I will now be able to be more active within the Ontario tech student community and explore the various clubs and opportunities available to me, without the additional challenges of balancing a part time job. I'm extremely grateful to have been provided with this opportunity and hope to encourage and inspire other women to purse an education within the STEM field."
Jenna Diotte
Major: Forensic Psychology
Recipient of the NWMO Indigenous Student Award
"This scholarship means a lot to me as it helps remind me that my hard work is paying off. It has helped me financially during these tough times, when I am unable to work due to the current pandemic. I'm a single mother, so any financial help is greatly appreciated."
Mary-Ann Semjan
Major: Electrical Engineering
Recipient of the NWMO Women for STEM Scholarship and the NWMO Indigenous Student Award
"I selected my program of study to be electrical engineering because I'm interested in mathematics and physics, as well as learning about their applications in the real world. In addition to this, I always had a fascination with technology growing up, such as with computers and how they operate. As the cost of obtaining an engineering degree is quite heavy, I was incredibly thankful to have been chosen to receive financial support! In addition to my mother working part time as well as the onset of the pandemic, paying for my tuition would prove to be more challenging than ever before. This scholarship means a lot to me and my family as it is bringing me one step closer to achieving my dreams and pursuing a career path that I am most passionate about. Students like myself, who hope to travel down the rather expensive path of getting a university degree, are very thankful for the kindness that organizations in our community such as NWMO have for us in terms of academic funding. With this funding, us students are able to shift our focus off of the burden of ensuring our degrees can be paid for and onto the actual education itself. This peace of mind truly means more than what can be described in words! Once more, thank you very much for giving me this scholarship."
Dmitri Rios Nadeau
Major: Software Engineering
Recipient of the NWMO Indigenous Student Award
"Receiving this scholarship allows me to depend less on my loved ones and less on debt in order to receive a university education. This means allowing me to start a career in my field with an advantage. It also means I'll have less strain and stress about my financial situation while I study. Thanks to this scholarship I can spend less time working to afford school and more time focusing on my studies. It also provides me relief about my financial situation at the current moment as I am currently unable to work my regular part-time job due to the lockdown. Due to the nature of the lockdown and its duration I wasn't certain I would return to work before my University tuition was owed. This scholarship has allowed me to worry less about when I will return to my part-time job. Overall, this scholarship provides long term relief because it reduces the amount of debt I and my family will accumulate and short term relief because it allows me to pay tuition fees for this semester which are coming due. Lastly, I'd like to thank NWMO for all they've done."
The NWMO's work to promote diversity in STEM starts with education. The organization has supported dozens of STEM-based learning and extracurricular activities since it was founded in 2002, from helping schools afford equipment that allow kids to learn about coding robots to sponsoring FIRST LEGO League competitions.
The NWMO is tasked with implementing Canada's plan for the safe, long-term storage of used nuclear fuel in a manner that protects people and the environment for generations to come in an area with informed and willing hosts.

About the NWMO

The Nuclear Waste Management Organization (NWMO) is a not-for-profit organization tasked with the safe, long-term management of Canada's used nuclear fuel inside a deep geological repository, in a manner that protects people and the environment for generations to come.

Founded in 2002, the NWMO has been guided for more than 20 years by a dedicated team of world-class scientists, engineers and Indigenous Knowledge Holders that are developing innovative and collaborative solutions for nuclear waste management. Canada's plan will only proceed in an area with informed and willing hosts, where the municipality, First Nation and Métis communities, and others in the area are working together to implement it. The NWMO plans to select a site in 2024, and two areas remain in our site selection process: the Wabigoon Lake Ojibway Nation-Ignace area in northwestern Ontario and the Saugeen Ojibway Nation-South Bruce area in southern Ontario.