About the NWMO
NWMO research facility opens its doors to Women in Nuclear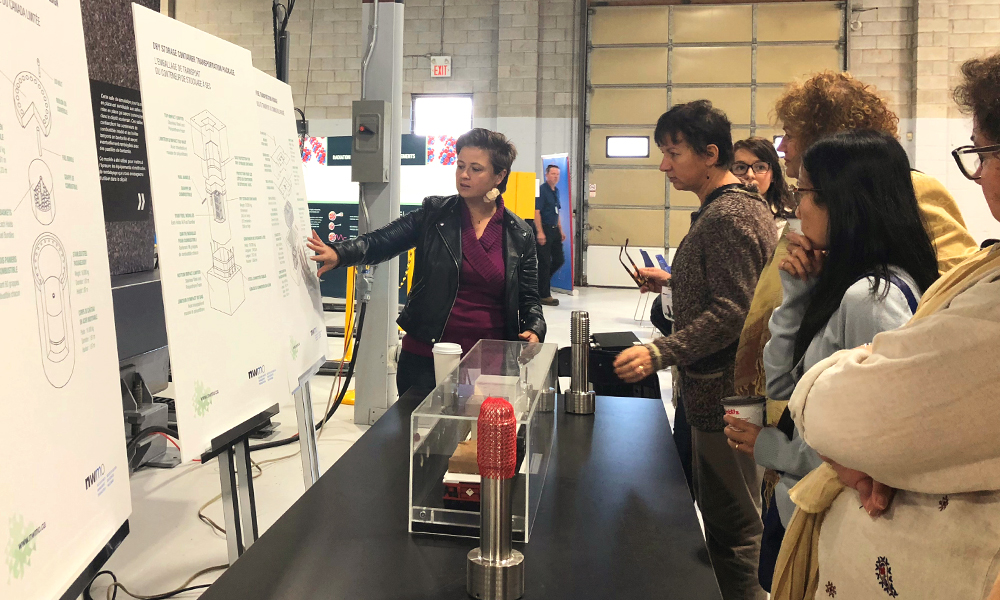 Members of two Women in Nuclear local chapters tour the NWMO's proof test facility in Oakville, Ont.
Continuing the momentum gained from participating in the successful Women in Nuclear (WiN) Canada conference in Saskatoon at the end of September, the Nuclear Waste Management Organization (NWMO) welcomed members of two local WiN chapters to tour our research facility in Oakville, Ont.
At the WiN Canada conference, Laurie Swami, a self-described STEMinist and President and CEO of the NWMO, challenged herself and her industry colleagues to do more to support the next generation of women leaders and women in technical fields.
"Travelling in from all over the Greater Toronto and Hamilton area, and giving up a good portion of their Saturday, these WiN members show the commitment to learning and leadership that Ms. Swami wants our organization to encourage in the industry," said Daniela Heimlich, a Senior Specialist at the NWMO and member of the WiN Golden Horseshoe West chapter.
Chapter members from WiN Durham and WiN Golden Horseshoe West represent several companies within the Canadian nuclear industry, such as Ontario Power Generation, SNC-Lavalin, and Promation.
"It has been a wonderful experience learning more about the NWMO's technical program and how it plans to safely manage the used fuel produced by Canada's nuclear reactors," said Sonia Qureshi, Director of Joint Projects and Services at CANDU Owners Group, and Chair of the WiN Golden Horseshoe West chapter. "As a professional in the nuclear industry, it has been eye-opening to learn more about the end of the nuclear cycle and see the progress of its technical program first-hand."
About the NWMO

The Nuclear Waste Management Organization (NWMO) is a not-for-profit organization tasked with the safe, long-term management of Canada's used nuclear fuel inside a deep geological repository, in a manner that protects people and the environment for generations to come.

Founded in 2002, the NWMO has been guided for more than 20 years by a dedicated team of world-class scientists, engineers and Indigenous Knowledge Holders that are developing innovative and collaborative solutions for nuclear waste management. Canada's plan will only proceed in an area with informed and willing hosts, where the municipality, First Nation and Métis communities, and others in the area are working together to implement it. The NWMO plans to select a site in 2024, and two areas remain in our site selection process: the Wabigoon Lake Ojibway Nation-Ignace area in northwestern Ontario and the Saugeen Ojibway Nation-South Bruce area in southern Ontario.