Environment and safety
Water Statement reinforces NWMO's work to protect water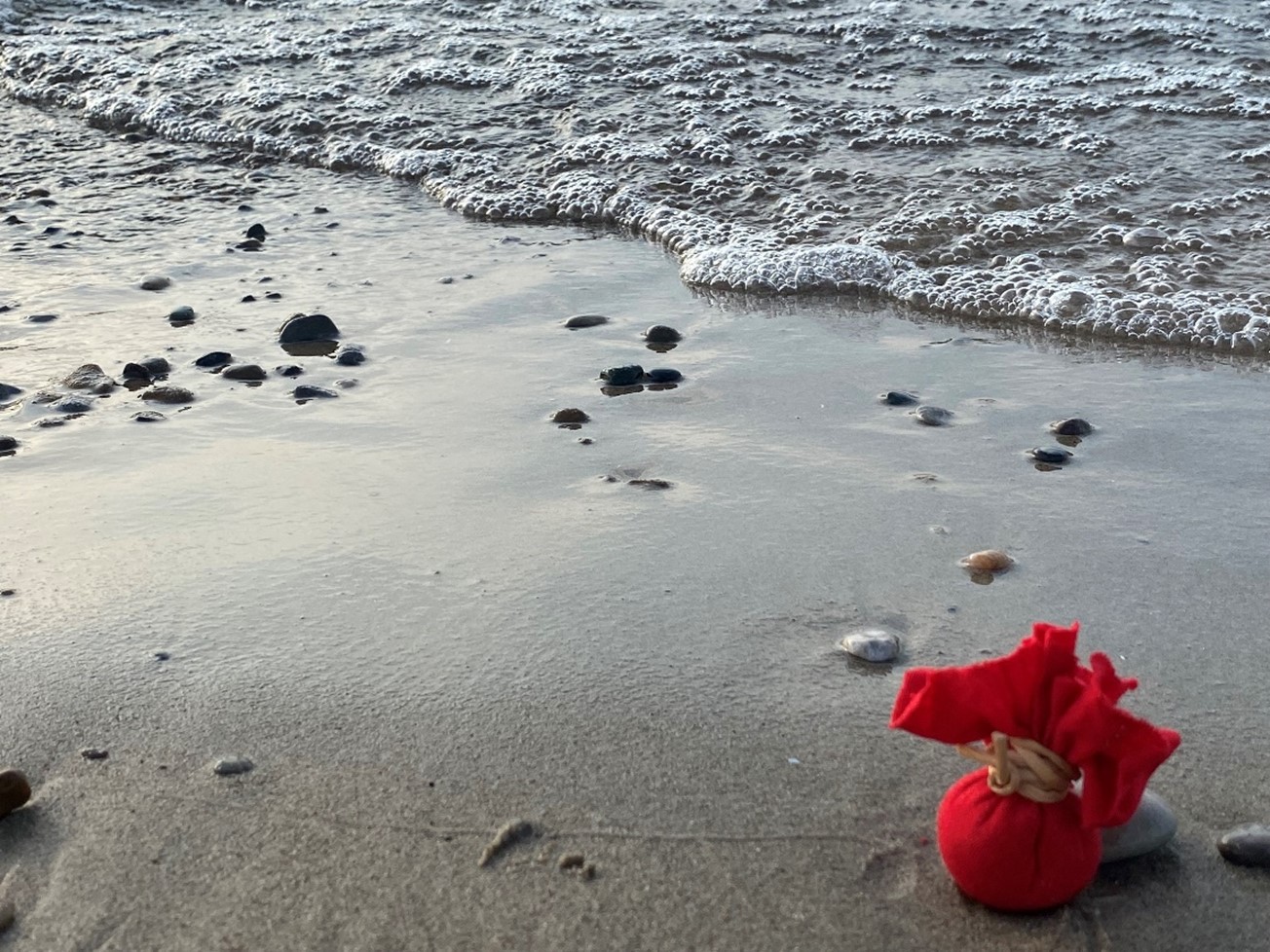 At the NWMO, we are committed to working with communities, including Indigenous Knowledge Holders, to ensure the long-term safety and protection of our precious water resources. (A tobacco offering on the shore of Lake Huron. Photo credit: Jessica Perritt.)
The Nuclear Waste Management Organization (NWMO) has released a Water Statement that outlines just how vital water protection is to Canada's plan for the safe, long-term management of used nuclear fuel.
Since our establishment in 2002, collaboration with communities has been at the core of the NWMO's planning. Through discussions with Canadians and Indigenous peoples, the NWMO identified a common theme of questions about how the project will protect water. As one way to reinforce the importance of this work, we decided to publish a Water Statement, which outlines how the entire purpose of the plan for used nuclear fuel is to protect people and the environment, including water.

"Land, trees, soil, air, streams, humans, lakes, fish, birds and animals are all part of the water cycle. Some ecosystems, like wetlands, act as water filters on a large environmental scale," said Joanne Jacyk, Site Director, Ignace and co-chair of the NWMO's internal water working group. "Any work we do at the NWMO is about protecting water. At the macro view there is no distinction."

The NWMO Water Statement begins with an acknowledgement of truths, before outlining how the NWMO is committed to water protection in all our work by considering how the agency of water (from surface to underground) may be in relationship with Canada's planned deep geological repository and its surrounding area.

"I think the word 'agency' is important because it acknowledges water as a being, as a source of wisdom that we need to listen to," said Jessica Perritt, Manager of Indigenous Knowledge and Reconciliation and co-chair of the NWMO's internal water working group. "It's important that we are lifting it up and amplifying that voice in a way that is appropriate to the significance of its value here on Mother Earth."

The development of the statement relied heavily on a process of co-creation to shape our language around water. We benefited from the advice of the NWMO's internal water working group, Indigenous Knowledge Holders, the Advisory Council and the Council of Elders and Youth, as well as Indigenous-led reviews.

"The Water Statement reflects the environment and water but also the NWMO's commitment to working with Indigenous peoples and ensuring Indigenous voice is part of our thinking and design of programs," said Bob Watts, Vice-President of Indigenous Relations and Strategic Programs at the NWMO. "Reconciliation as defined by the Truth and Reconciliation Commission is an ongoing process of establishing and maintaining respectful relationships. For that reason, ensuring collaboration and co-creation on the development of this statement is not just centering the protection of water but Reconciliation and Indigenous Knowledge as well."

The NWMO's Water Statement is a sister document to our Environmental Responsibility Statement. It is also anchored by the NWMO's Reconciliation Policy (2019) that outlines the importance of working with Indigenous peoples, and our Indigenous Knowledge Policy (2020), which recognizes that people are one with Mother Earth.
About the NWMO

Founded in 2002, the Nuclear Waste Management Organization is a not-for-profit organization tasked with the safe, long-term management of Canada's intermediate- and high-level radioactive waste, in a manner that protects people and the environment for generations to come.

The NWMO has been guided for more than 20 years by a dedicated team of world-class scientists, engineers and Indigenous Knowledge Holders that are developing innovative and collaborative solutions for nuclear waste management.