Canada's plan
Why a Traditional Knowledge keeper and Storyteller works with the NWMO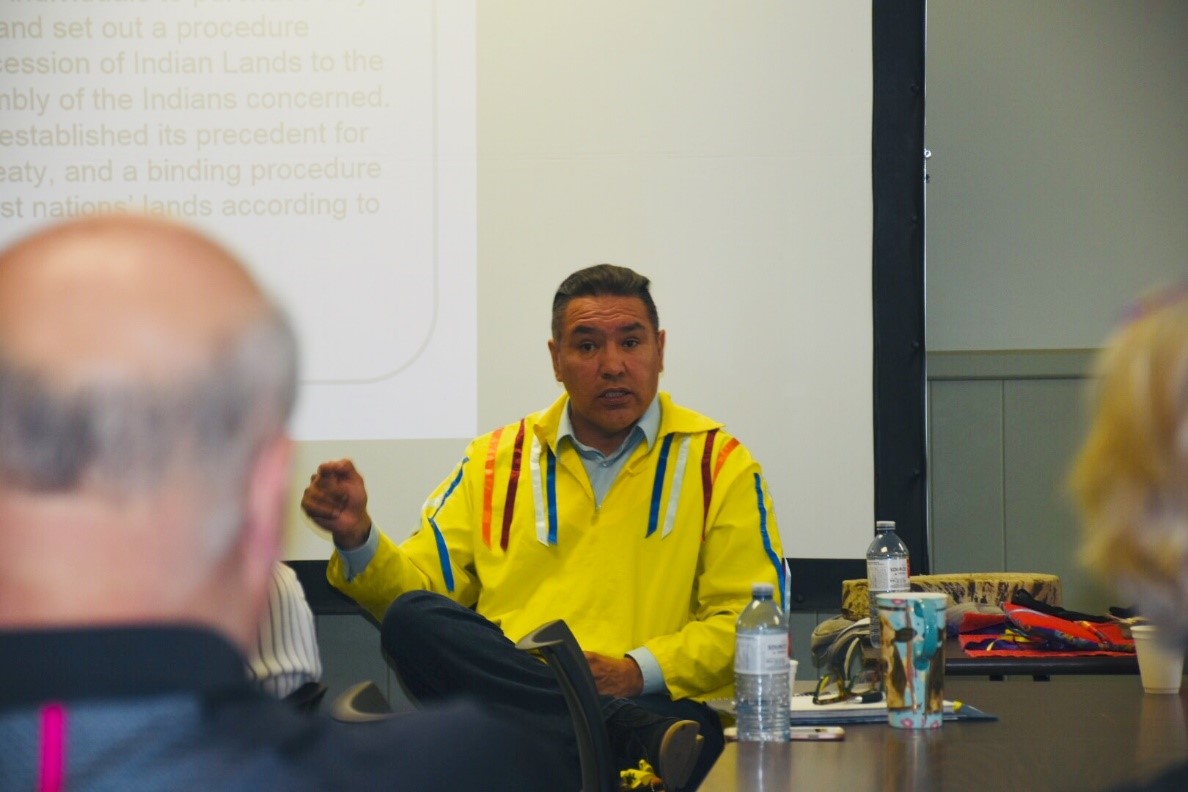 Lyndon J. Linklater led cultural awareness training in Bruce County last year, taking the same approach as he does with NWMO staff.
For Lyndon J. Linklater, storytelling brings communities together.
The Traditional Knowledge Keeper and Storyteller has been working with the NWMO for five years. He leads cultural awareness training for NWMO staff, contractors and communities in our potential siting areas.
Mr. Linklater provides cultural awareness training for a living because it is important. People aren't always aware that Canada's history includes the suppression of Indigenous culture, broken treaties and Residential Schools. Furthermore, Indigenous peoples continue to experience injustices today. Through awareness and education, we can start on the path to co-create a better future built on rights, equity and well-being. He finds shared moments of understanding and learning to be rewarding.
"I enjoy seeing the 'aha' moment that people have when they start to understand Indigenous history and the issues we still face."
A citizen of Thunderchild First Nation (Plains Cree) in Saskatchewan, Mr. Linklater learned Traditional Knowledge from Elders who taught him through oral tradition, which is part of Indigenous culture. He incorporates those teachings, personal stories and interactive activities to engage people and create a learning environment.
NWMO staff bring knowledge gained from cultural awareness training and additional Reconciliation training to their jobs. It helps them build respectful relationships with Indigenous communities and to ensure they are supporting the NWMO in upholding its commitments to Reconciliation. Staff continue to find ways to interweave Indigenous Knowledge in our work – from walking the land to help determine appropriate borehole locations to incorporating sharing circles into the Human Resources department's resilience support programs.
Municipalities in potential siting areas have also expressed interest in cultural awareness training to learn more about their Indigenous neighbours and encourage dialogue between communities, as discussions of potential partnerships continue. Mr. Linklater has facilitated cultural awareness training in these communities as well, which had a positive effect in strengthening relationships between municipal and Indigenous neighbours.
"You have these groups of people living as neighbours for years but who don't know much about each other," Mr. Linklater said. "The NWMO has been creating opportunities for learning through this cultural awareness training. You can see residents gain a level of understanding they never had before. To me that is a huge step in Reconciliation."
Mr. Linklater said the NWMO is setting an example for other organizations in terms of our Reconciliation journey.
"The NWMO is answering the call to action and stepping up. They aren't just talking about Reconciliation, they are doing something about it. I am lucky to be part of the NWMO family and to do whatever I can to help out," he said.
About the NWMO

The Nuclear Waste Management Organization (NWMO) is a not-for-profit organization tasked with the safe, long-term management of Canada's used nuclear fuel inside a deep geological repository, in a manner that protects people and the environment for generations to come.

Founded in 2002, the NWMO has been guided for more than 20 years by a dedicated team of world-class scientists, engineers and Indigenous Knowledge Holders that are developing innovative and collaborative solutions for nuclear waste management. Canada's plan will only proceed in an area with informed and willing hosts, where the municipality, First Nation and Métis communities, and others in the area are working together to implement it. The NWMO plans to select a site in 2024, and two areas remain in our site selection process: the Wabigoon Lake Ojibway Nation-Ignace area in northwestern Ontario and the Saugeen Ojibway Nation-South Bruce area in southern Ontario.