South Bruce youth discover the nuclear life cycle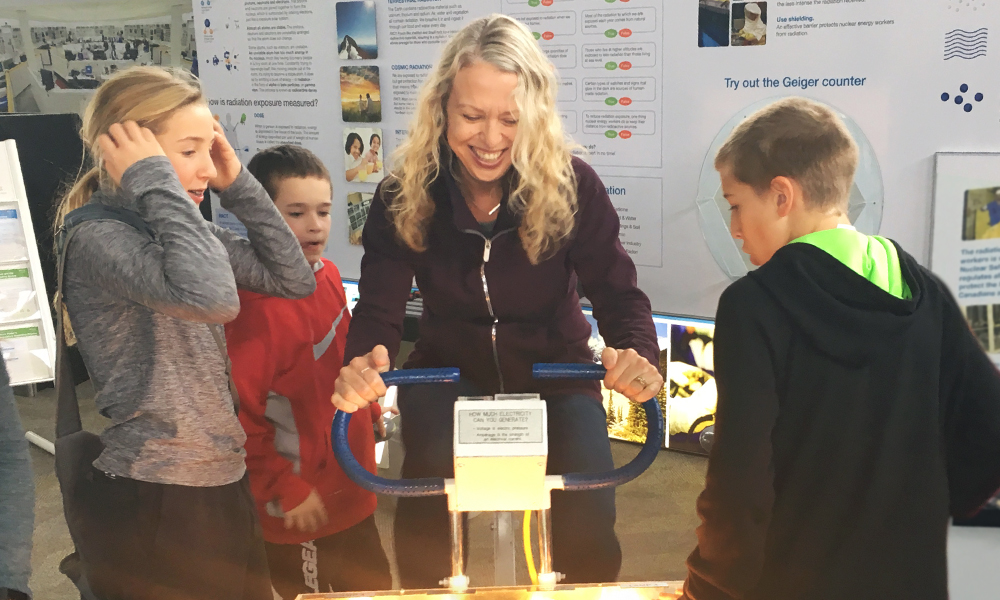 Mildmay Sacred Heart Teacher Mrs. Kadlecik is cheered on by her students as they explore the Bruce Power Visitor Centre
Students from Mildmay Scared Heart and Mildmay-Carrick Public School recently explored the world of nuclear energy at the Bruce Power Visitor Centre. The students spent time learning about the nuclear life cycle, beginning with mining uranium from the earth, through to Canada's plan for the safe, long-term management of used nuclear fuel.
"What an incredible group of youth. They were engaged and asked many thoughtful questions about Canada's Plan. I'm incredibly proud of the youth in South Bruce and excited for their future," said Cherie Leslie, Senior Engagement Advisory for the Nuclear Waste Management Organization (NWMO). "I want to thank Bruce Power for welcoming us to their visitor centre and sharing their story with students from South Bruce."
The students started their day learning about energy during a presentation from Bruce Power. The students also learned about uranium fuel pellets, Canada's CANDU reactors and how they generate electricity. The NWMO also made a presentation on Canada's Plan for used nuclear fuel, which involves closing out the fuel cycle in a deep geological repository .
"We want to thank the NWMO, Bruce Power and the Municipality of South Bruce for the fun and educational day at the Bruce Power Visitor Centre," said Mrs. Kadlecik. "The students enjoyed the exhibits, presentations and learned a lot about the nuclear fuel cycle."
Students had some free time to explore the interactive exhibits and displays in the exhibit hall where they explored the inside of the reactor and were able to test their skills as a nuclear operator on replica control room panels.
The NWMO is committed to engaging people across multiple generations and providing opportunities for youth in potential siting areas to become involved and informed about Canada's Plan.