About the NWMO
The NWMO connects with the science leaders of tomorrow at Shad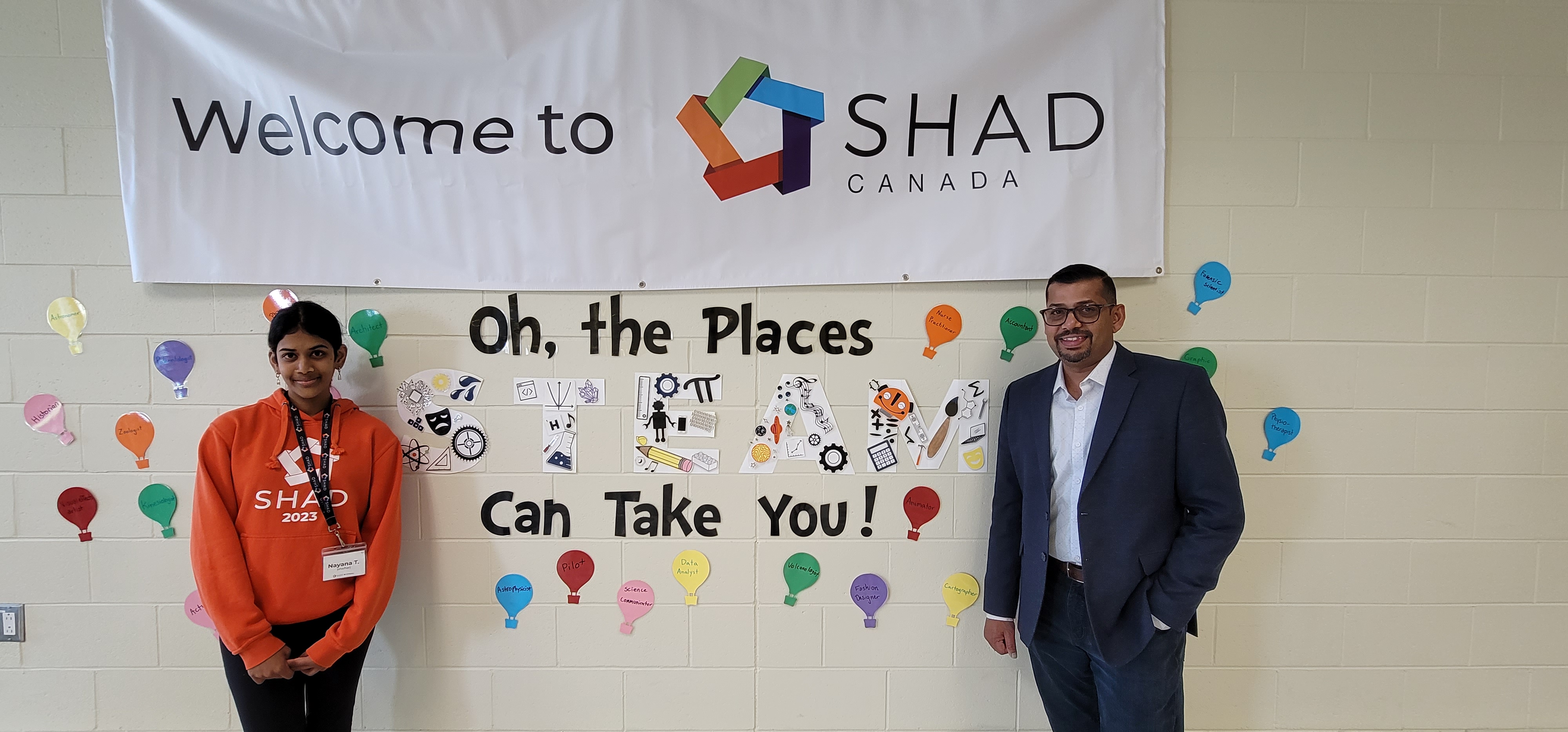 Ragavan Paranchothy, who presented on behalf of the NWMO, and daughter Nayana Thayan at Shad's Laurentian University campus.
Over the summer, more than 450 high-school-aged youth from across the country had the opportunity to connect with NWMO employees and learn about how these global thought leaders are implementing a multigenerational environmental infrastructure project on behalf of Canadians. The youth were part of an award-winning experiential program run by Shad Canada, which is focused on STEAM disciplines (science, technology, engineering, the arts and math). The goal of the program is to empower young people to become the "change makers" of tomorrow.
"Being part of Shad has been a valuable experience for me," said Nayana Thayan, a participant in Shad's 2023 summer program. "I made great friends, experienced university life and had the opportunity to engage in several STEAM activities that were transformational."
Shad runs programming at 21 university campuses, including a digital campus, each summer. At eight campuses, NWMO employees conducted interactive presentations and workshops for the students, answering their questions about Canada's plan for the safe, long-term management of used nuclear fuel.
"It was inspiring and rewarding to speak to a group of bright students who show incredible promise to make the world a better place," said Ragavan Paranchothy, one of several NWMO employees who presented at Shad. "The youth we spoke with are poised to become the leaders of tomorrow who will carry Canada's plan forward, so it's important to support these students now."
For Paranchothy, participating in Shad this year had personal significance as his daughter was one of the students attending the program.
"It was an extra special experience to have my daughter here as one of the participants and to see her and her cohort engage meaningfully with our presentation. This program helps prepare these kids for success, so it makes me really proud to see my daughter gain this incredible experience along with her newfound friends."
The NWMO is committed to supporting youth education in science, technology, engineering and math and has partnered with Shad since 2010. Shad is one of several organizations supported by the NWMO that enhance science learning among young people. To learn more about how the NWMO is supporting youth, visit our website.
About the NWMO

The Nuclear Waste Management Organization (NWMO) is a not-for-profit organization tasked with the safe, long-term management of Canada's used nuclear fuel inside a deep geological repository, in a manner that protects people and the environment for generations to come.

Founded in 2002, the NWMO has been guided for more than 20 years by a dedicated team of world-class scientists, engineers and Indigenous Knowledge Holders that are developing innovative and collaborative solutions for nuclear waste management. Canada's plan will only proceed in an area with informed and willing hosts, where the municipality, First Nation and Métis communities, and others in the area are working together to implement it. The NWMO plans to select a site in 2024, and two areas remain in our site selection process: the Wabigoon Lake Ojibway Nation-Ignace area in northwestern Ontario and the Saugeen Ojibway Nation-South Bruce area in southern Ontario.