Selecting a site
The NWMO donates to local saddle club to help youth stay engaged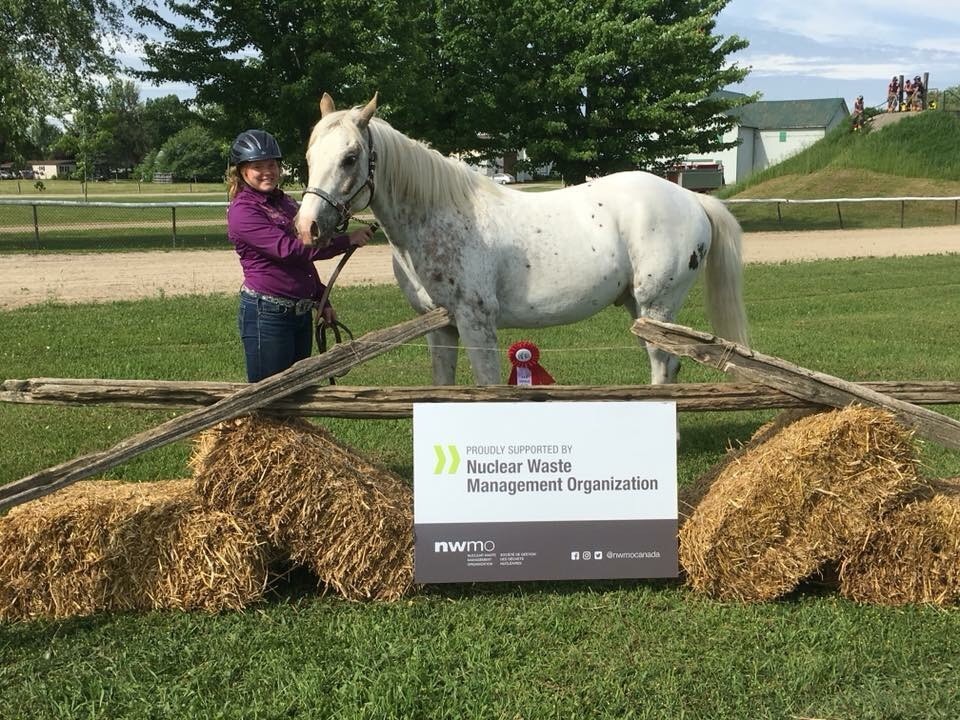 The NWMO proudly supports the Rather Be Riding (RBR) Saddle Club to help with the costs of their show season. 
Maintaining youth engagement during COVID-19 is a priority for many, including the Rather Be Riding Saddle Club (RBR Saddle Club). The Nuclear Waste Management Organization (NWMO) aims to help with these efforts by donating $1,000 to their upcoming horseback riding season, which volunteers are hopeful will still be able to run in 2020.
The RBR Saddle Club is a family-focused saddle club located in Teeswater, and is proud to be celebrating seven years of operation. RBR Saddle Club welcomes riders of all skill levels and is supported by the help of older members within the club along with a few adult volunteers.
"Rather Be Riding offers an alternative to traditional team sports for local youth and continues to see growth in enrolment each year. We recognize the importance of keeping youth involved in agriculture, 4-H and saddle clubs and remain hopeful that we can run our program this season," said Sage Aulthouse, Rather Be Riding Saddle Club President. "We thank the NWMO for their support that will help us keep teens engaged during this unprecedented period."
"For the past several years we've been fortunate to be amongst the many proud supporters of this great local club, and we're really pleased to be involved again this year," says Paul Austin, Relationship Manager with the Nuclear Waste Management Organization. "The NWMO recognizes the RBR Saddle Club's commitment to empowering youth and is happy to provide financial support to this local club."
The NWMO has responded to the global COVID-19 pandemic by supporting municipal and Indigenous communities involved in the site selection process. Recently the NWMO made a donation to WES for Youth, to support online counselling for youth. We also partnered with others in the industry to support the distribution of hand sanitizer to food banks in the South Bruce region.
About the NWMO

The Nuclear Waste Management Organization (NWMO) is a not-for-profit organization tasked with the safe, long-term management of Canada's used nuclear fuel inside a deep geological repository, in a manner that protects people and the environment for generations to come.

Founded in 2002, the NWMO has been guided for more than 20 years by a dedicated team of world-class scientists, engineers and Indigenous Knowledge Holders that are developing innovative and collaborative solutions for nuclear waste management. Canada's plan will only proceed in an area with informed and willing hosts, where the municipality, First Nation and Métis communities, and others in the area are working together to implement it. The NWMO plans to select a site in 2024, and two areas remain in our site selection process: the Wabigoon Lake Ojibway Nation-Ignace area in northwestern Ontario and the Saugeen Ojibway Nation-South Bruce area in southern Ontario.