Local activities
Community finds innovative ways to keep programs moving forward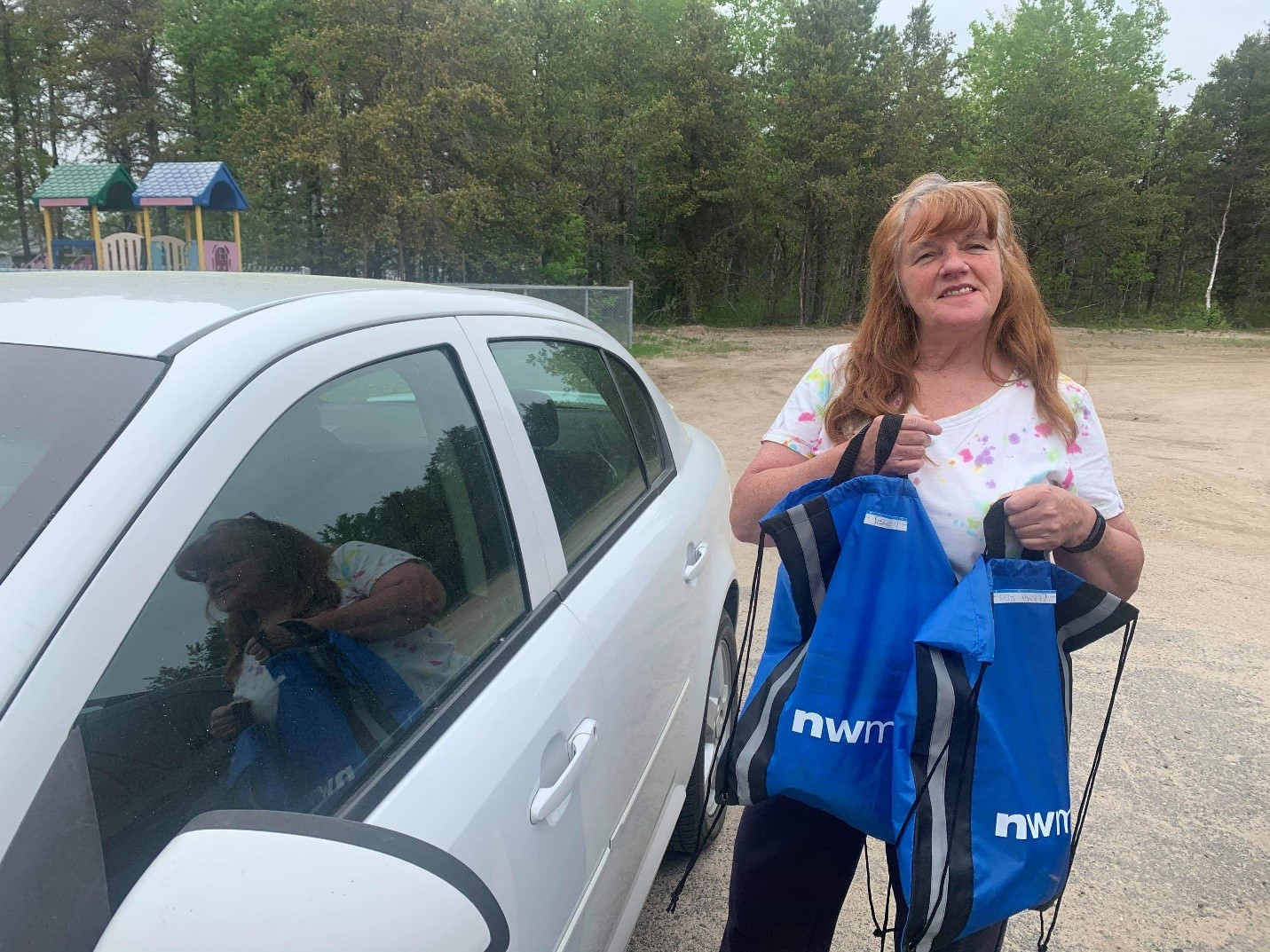 Gwen Andrews from Nursery School/EarlyON Child and Family Centre delivering bags with resources for do-it-yourself activities to children up to 14 years old.
The Nuclear Waste Management Organization (NWMO) is supporting a number of community initiatives in Ignace as schools and most public areas remain closed due to the COVID-19 outbreak. Community organizations are finding ways to reach children and families in their homes.
"The NWMO remains committed to supporting families and our community during this difficult time. The well-being of our communities and region are paramount," said Chantelle Gascon, Community Liaison Manager at the NWMO.
The "Blessings in a Backpack" program is delivering food to children at home to avoid hunger. The program, which is normally operated through schools, provides nutritious, non-perishable, easy-to-prepare food. Volunteers purchase food and pack it for distribution. The Nuclear Waste Management Organization (NWMO) donated $4,500 to help the program fill in any gaps during COVID-19 outbreak.
The Busy Bag program for families with children up to 14 years of age initiated by Ignace Nursery School/EarlyON Child and Family Centre, is another example of a vital program for children and families during the COVID-19 situation. The NWMO contributed materials and resources to complement what was provided by the Centre to facilitate outdoor play.
"During this time, we wanted to make sure families had access to fun, do-it-yourself activities that can help keep children entertained. The bags are age-appropriate and independently geared toward each child," said Yvonne Dungey, Ignace Nursery School staff member.
The support and excitement from the community for the bags has been overwhelming, with more than 58 families and 120 children accessing the service.
The Emmanuel Anglican Church also initiated a similar program for senior citizens where volunteers delivered "Senior Quarantine Care Packages." The NWMO supported this initiative by contributing drawstring bags, pens and word search books for 85 seniors.
Additionally, to promote physical activity and mental well-being, the NWMO recently supported the
Northwestern Health Unit
(NWHU) activity bags for youth in Grades 7 to 12 by providing wooden and paper craft kits and 65 drawstring backpacks. The NWHU organized a Teen Challenge, with support from community partners and each youth received an activity bag which included gardening supplies, crafts, journals, games and snacks.
About the NWMO

The Nuclear Waste Management Organization (NWMO) is a not-for-profit organization tasked with the safe, long-term management of Canada's used nuclear fuel inside a deep geological repository, in a manner that protects people and the environment for generations to come.

Founded in 2002, the NWMO has been guided for more than 20 years by a dedicated team of world-class scientists, engineers and Indigenous Knowledge Holders that are developing innovative and collaborative solutions for nuclear waste management. Canada's plan will only proceed in an area with informed and willing hosts, where the municipality, First Nation and Métis communities, and others in the area are working together to implement it. The NWMO plans to select a site in 2024, and two areas remain in our site selection process: the Wabigoon Lake Ojibway Nation-Ignace area in northwestern Ontario and the Saugeen Ojibway Nation-South Bruce area in southern Ontario.