About the NWMO
The NWMO supports five-pin bowlers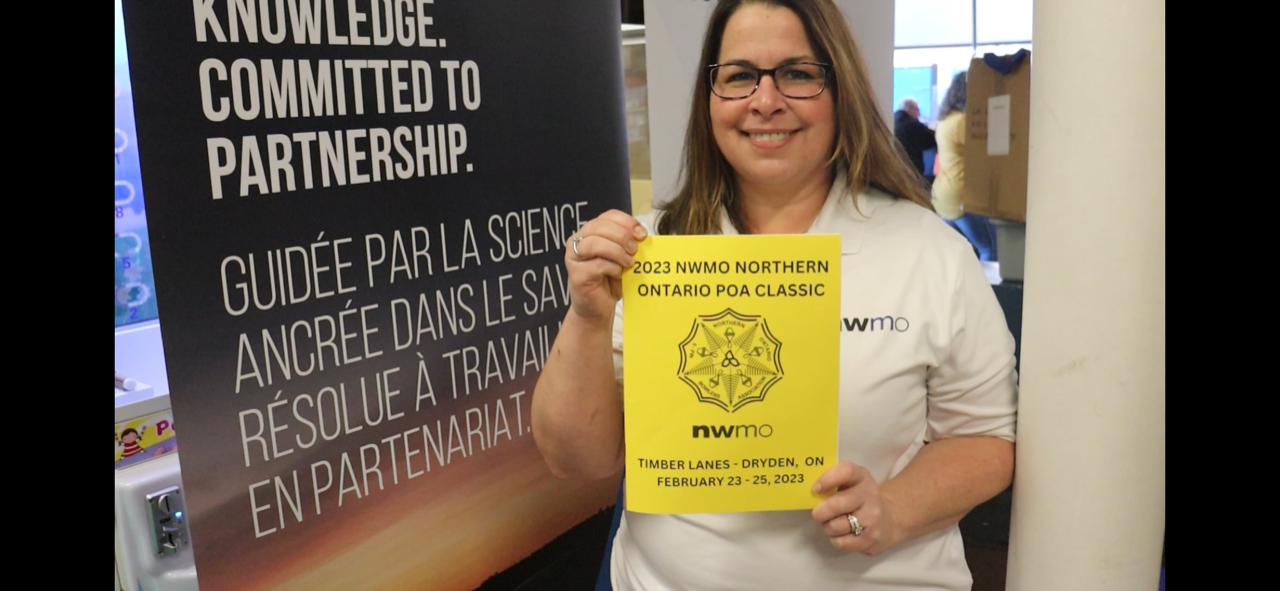 Chantelle Gascon, Community Liaison Manager at the NWMO.
The Nuclear Waste Management Organization (NWMO) believes in innovation and problem-solving, and it may surprise you to learn that the sport of five-pin bowling believes the same. The modification of 10-pin bowling into five-pin is a Canadian invention that led to a whole new audience for the sport and provided a solution players who were deterred by the heavy bowling balls used in a 10-pin game. We are delighted to have the opportunity to sponsor the NWMO Classic tournament held on Feb. 24–26, which saw more than 100 bowlers take part in this fun event.
"The sport of five-pin bowling was invented in Toronto by Tommy Ryan in 1909. Over the years, the sport has evolved, and we have seen some great competitors come from across the country, including our great region of northern Ontario," said Tim Gadd, President, Northern Ontario 5 Pin Bowlers' Association. "Five-pin bowling is a unique sport where you get fierce competition but also gain a family. Thanks to this sport, I have close friends throughout the country. I would like to send a sincere thank-you to the NWMO for becoming a title sponsor and for helping support our tournaments."
The Northern Ontario 5 Pin Bowlers' Association has more than 900 members across the province, with bowling centres in Dryden, Thunder Bay, North Bay, Timmins and Sudbury. Each centre has annual tournaments for youth and adults that bring together the top five-pin bowlers from across the region to compete for fun and prizes.
"It's fantastic to work with a group like the Northern Ontario 5 Pin Bowlers' Association that help bring exercise, well-being and the spirit of friendly competition to communities across the north," said Vince Ponka, the NWMO's Regional Communications Manager. "We believe in supporting the communities we engage with and the ones where we live and work."
The sponsorship of this initiative is part of the NWMO's local and regional sponsorship program that works in response to community requests to partner with local organizations to support initiatives that enhance community well-being.
About the NWMO

The Nuclear Waste Management Organization (NWMO) is a not-for-profit organization tasked with the safe, long-term management of Canada's used nuclear fuel inside a deep geological repository, in a manner that protects people and the environment for generations to come.

Founded in 2002, the NWMO has been guided for more than 20 years by a dedicated team of world-class scientists, engineers and Indigenous Knowledge Holders that are developing innovative and collaborative solutions for nuclear waste management. Canada's plan will only proceed in an area with informed and willing hosts, where the municipality, First Nation and Métis communities, and others in the area are working together to implement it. The NWMO plans to select a site in 2024, and two areas remain in our site selection process: the Wabigoon Lake Ojibway Nation-Ignace area in northwestern Ontario and the Saugeen Ojibway Nation-South Bruce area in southern Ontario.