Canada's plan
Elder Fred Kelly shares Indigenous water symbolism with NWMO staff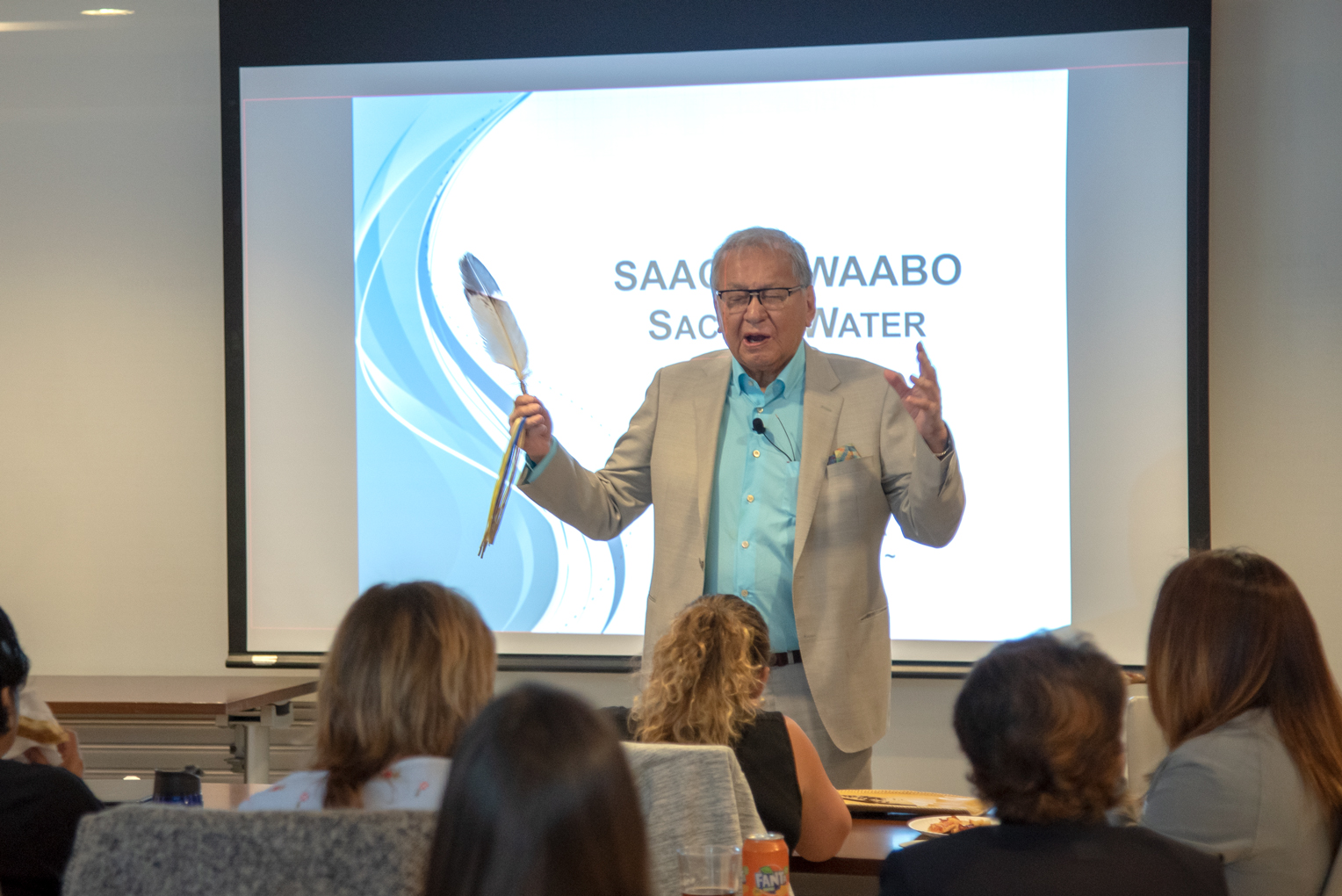 Elder Fred Kelly, a citizen of the Ojibways of Onigaming of the Anishinaabe Nation in Treaty #3 and an Elder in Midewin, the Sacred Law and Medicine Society of the Anishinaabe, provides healing therapies to Indigenous peoples in Canada and around the world.
June was National Indigenous History Month and a busy time for the Nuclear Waste Management Organization (NWMO), filled with learning and opportunities for reflection. As part of the NWMO's National Indigenous History Month activities, we hosted a series of lunch and learn sessions for staff on Indigenous topics.
On June 24, Elder Fred Kelly, advisor to the NWMO's Council of Elders and Youth, delivered a session about Nibi (water) and Indigenous water symbolism, including how western science and Indigenous Knowledge systems align.
"Contemporary science does not look at Indigenous Knowledge, but we must bring these knowledge systems back together," said Elder Kelly.
Elder Kelly explained that water is considered sacred in the Indigenous world view; water ceremonies mark its importance.
He also spoke of how in the Indigenous belief system, water came from the stars. The creator fashioned Mother Earth, first making the mountains (grandfathers), who then asked for company, which they received in the form of four stars. These four stars provided salt water, atmospheric water, fresh water, and birth water – and represent the different types of water that humans need to survive.
For the NWMO, considering water is also paramount in the planning and siting of a deep geological repository for the safe, long-term management of used nuclear fuel.
Both western and Indigenous systems share knowledge about water. As an example, Elder Kelly shared how western science and Indigenous Knowledge align, referencing a 2015 scientific discovery that water had memory (based on research published in the journal Nature Communications). "If water, as the scientists say, contains memory, then I say it carries information."
Though the methodologies for western science and Indigenous Knowledge differ, both systems reveal knowledge that can be used to inform future decisions.
Ulf Stahmer, Senior Transportation Engineer at the NWMO, attended the lunch and learn because he is interested in exploring links between western science and Indigenous Knowledge. "I think we share a similar story, but it is obscured in a different language," said Mr. Stahmer. "I was encouraged from the lunch and learn to see commonality exists," he continued.
As part of Reconciliation, Elder Kelly referred to a process of "harmonizing" – and reiterated the importance of bringing together both western science and traditional knowledge. Mr. Stahmer agreed, "If we [at the NWMO] want to be inclusive, we need to be open to different points of view."
In closing, Elder Kelly emphasized that a harmonization approach is necessary both for the success of the NWMO project and for the survival of the human species.
About the NWMO
The Nuclear Waste Management Organization (NWMO) is a not-for-profit organization tasked with the safe, long-term management of Canada's used nuclear fuel inside a deep geological repository, in a manner that protects people and the environment for generations to come.
Founded in 2002, the NWMO has been guided for more than 20 years by a dedicated team of world-class scientists, engineers and Indigenous Knowledge Holders that are developing innovative and collaborative solutions for nuclear waste management. Canada's plan will only proceed in an area with informed and willing hosts, where the municipality, First Nation and Métis communities, and others in the area are working together to implement it. The NWMO plans to select a site in 2024, and two areas remain in our site selection process: the Wabigoon Lake Ojibway Nation-Ignace area in northwestern Ontario and the Saugeen Ojibway Nation-South Bruce area in southern Ontario.