Environment and safety
The NWMO continues to conduct geoscience work amid pandemic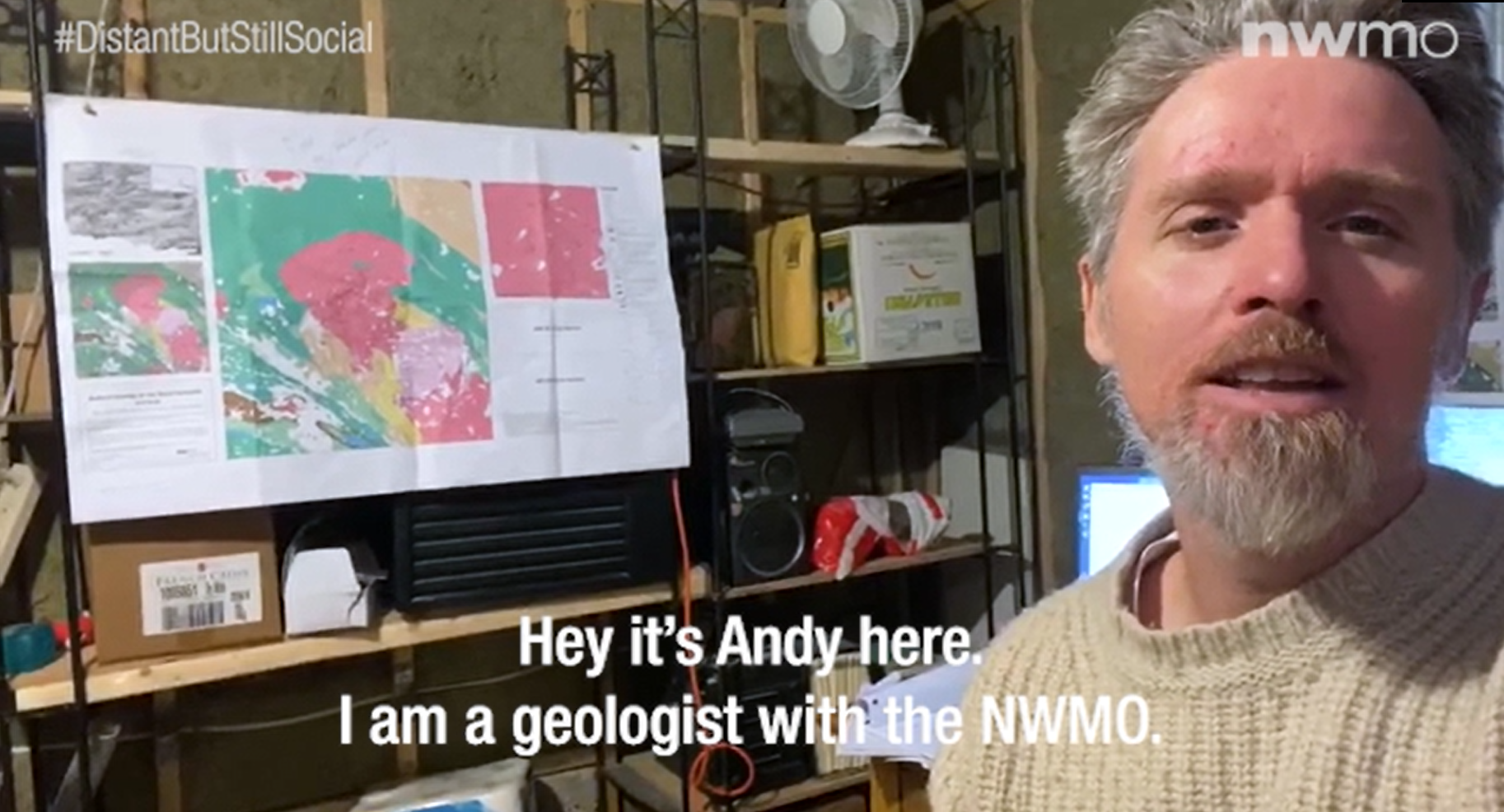 ndy Parmenter, NWMO geologist, talking about remote work that the Geoscience Team is doing during the COVID-19 outbreak
The Nuclear Waste Management Organization (NWMO) is continuing with remote technical studies and research, although fieldwork activities such as borehole drilling have been paused due to the COVID-19 pandemic.
Ongoing technical work includes analyzing data from rock and water samples that were collected during recent
borehole drilling and testing
in the Ignace-Wabigoon area to gain a better understanding of the geology. This analysis is an important part of the work required to confirm the site would be a safe place to host a deep geological repository to contain and isolate Canada's used nuclear fuel.
"As a geologist, I always want to have people in the field, gathering information and data for our project," said Andy Parmenter, Section Manager, Geoscientific Integration and Synthesis at the NWMO. "The reality under the current COVID-19 situation is that we've had to change how we do our work, turning our focus to work we can take on remotely. The data that we're getting in continues to indicate that the rock is relatively homogenous and stable and that there is no evidence of recent water deep underground."
The NWMO continues to work with communities and contractors to plan for safely returning to the field and drilling the fifth and sixth boreholes in the area. We will adhere to the public health advice to ensure we only return at a time, and using an approach, that is safe for everyone. The NWMO previously completed drilling and downhole testing of boreholes one to three, and drilling and coring of the fourth borehole to 1,000 metres was completed in March 2020.
Based on available information and data collected by the NWMO, the Geoscience Team is also finalizing two reports for publication shortly: a revised lineament interpretation using high-resolution data that shows the surface location of potential fracture zones, and an updated geological map of the Ignace area, which used high-resolution airborne geophysical data, historical information from the region, and our recent mapping work.
Andy said, "These products will provide the most accurate representation of the bedrock available and they will be integrated with the borehole data to develop three-dimensional geological models of the study area."
The Ignace area is one of
two areas
currently involved in the NWMO's site selection process for a deep geological repository for Canada's used nuclear fuel.
About the NWMO

The Nuclear Waste Management Organization (NWMO) is a not-for-profit organization tasked with the safe, long-term management of Canada's used nuclear fuel inside a deep geological repository, in a manner that protects people and the environment for generations to come.

Founded in 2002, the NWMO has been guided for more than 20 years by a dedicated team of world-class scientists, engineers and Indigenous Knowledge Holders that are developing innovative and collaborative solutions for nuclear waste management. Canada's plan will only proceed in an area with informed and willing hosts, where the municipality, First Nation and Métis communities, and others in the area are working together to implement it. The NWMO plans to select a site in 2024, and two areas remain in our site selection process: the Wabigoon Lake Ojibway Nation-Ignace area in northwestern Ontario and the Saugeen Ojibway Nation-South Bruce area in southern Ontario.